Bedford Federal Savings Bank, a federal state chartered bank, provides personal and business banking services in Indiana. Its personal banking services include checking accounts, including free checking, regular checking, safekeeping checking, and money market deposit accounts; savings accounts, such as statement savings and Christmas club accounts; certificates of deposit and IRAs, including Roth IRAs; and other products and services, such as E-statements, overdrafts, online banking and bill payment.
Bank Official Website:
• www.bedfed.com
Bank Customer Service Telephone:
• 1-(812) 278-3132
Bank Routing Number:
• 283971600
Bank Swift Number:
• This BANK is not part of the SWIFT network, so there is no number.
Online Banking Mobile Apps:
• iPad
• iPhone
• Android
Branch Locator:
• Branch Finder Link
Bedford Federal Savings Bank Online Banking Login
HOW TO LOGIN
Step 1 – Go to www.bedfed.com – In the "Online Banking" box at the top left of the page, enter your Username and Password. Click "Login"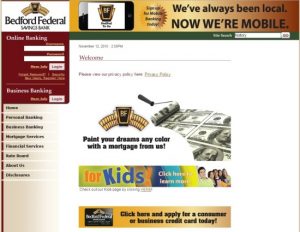 Step 2 – Once you've successfully entered your login credentials, you will be taken to your banking page where you may review your information and perform any transactions 24 hours per day.
Forgotten Password – Please see the message as posted by the bank:

Once you've contacted your bank and had your password reset, you will be able to regain access to your account.
HOW TO REGISTER
Step 1 – When you're prepared to register in online banking you will first go to the "Account Access Registration" page. This is where you will begin your registration process. Click "Begin"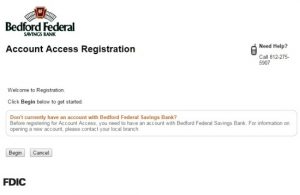 Step 2 –  When you click "Begin" you will be guided to the "Account Access Registration" form. Complete all of the required information contained in the form. Be advised that before you will be able to continue beyond this page, you must review and accept the terms and conditions contained in a link at the end of the form. Click "Continue"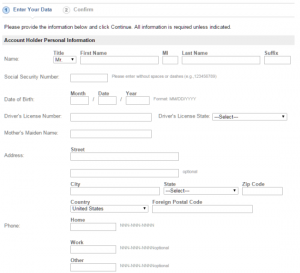 Step 3 – As you continue, you will be privately prompted through the remaining portion of the registration process. Once completed, you will have full access to your Online Banking account and may then proceed with reviews of your account and any transactions, any time day or night.