Black Hills Community Bank, N.A. provides personal and business banking services in Rapid City. Its personal banking services include checking and savings accounts; flexible and fixed rate certificates of deposit; traditional and roth individual retirement accounts (IRAs); personal loans; home equity loans and lines of credit; and loans for remodeling projects, vehicles, boats, RVs, and motorcycles. The company's business banking services include business checking and commercial savings accounts; commercial certificates of deposit and IRA retirement plans; and business loans, such as lines of credit for working capital.
Bank Official Website:
• www.bhcbank.com
Bank Customer Service Telephone:
• 1-(877) 343-2422
Bank Routing Number:
• 091409733
Bank Swift Number:
• This Bank is not part of the SWIFT network, so there is no number.
Online Banking Mobile Apps:
• iPhone
• iPad
Branch Locator:
•Branch Finder Link
Black Hills Community Bank Online Banking Login
HOW TO LOGIN
Step 1 – Go to bhcbank.com – In the center left side of the home page, under "Account Access," enter your Username in the selected box. Click the arrow to the right of your username inside of the box to continue.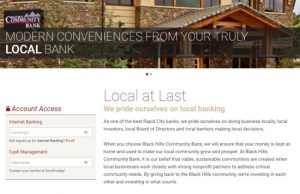 Step 2 – After you've entered your Username and continued, you will be taken to the password page. This page is separate ans secure to protect your banking information. Enter your password. Click "Submit"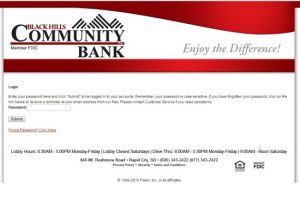 Step 3 – Once you've submitted your login credentials, you will then be guided to your Online Banking account page where you will be able to conduct any of your banking business at your convenience any time, 24 hours daily.
Forgotten Password – In the event you find that you're unable to recall your password, go to the "Forgotten Password" page. Enter all of the required information into the boxes provided. Click "Submit"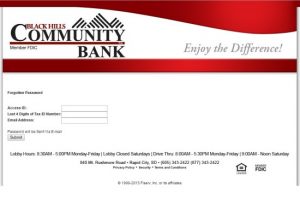 Once you've submitted your security information, you will receive an email that will be sent to the email address you have on file with the bank, containing your password. You may now login and resume your banking activities.
HOW TO ENROLL
Step 1 – When you're prepared to enroll in online banking services, you will begin by going to the "First Time Login" page. This page will require specific security information. Enter the information into the appropriate boxes. At the end of the page there will be a "Terms and Conditions" page. You will need to open the link and review the terms, you will have the ability to print them as well, if you choose. Once you click "Submit," this action will assume that you've read and agree to the terms, so do take the time to review them for your protection.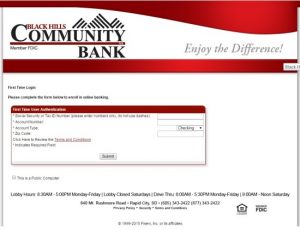 Step 2 – From here you will be privately prompted to complete your enrollment process. Once your enrollment is complete you will have the ability to login, any time of day or night to conduct your banking reviews and/or transactions.