Bremer Bank is the name of the banks owned by the Bremer Financial Corporation, a bank holding company founded by Otto Bremer in 1943. They operate bank branches in Minnesota, Wisconsin, and North Dakota, with a financial capitalization of about $10 billion. With headquarters in St. Paul, Minnesota, the company is completely owned by employees and the Otto Bremer Foundation.
Bank Official Website:
• WWW.bremer.com
Bank Customer Service Telephone:
• 1-800-908-2265
Bank Routing Number:
• 096010415
Bank Swift Number:
• BRFSUS4T
Online Banking Mobile Apps:
• iPhone
• Android
• iPad
Branch Locator:
•Branch Finder Link
HOW TO LOGIN
Step 1 – Visit Bremer Bank's Webpage and select which type of account you have, located on the right side of the page under "Access Your Account".
Step 2 – Select Bremer Online Banking as your Online System and click Login.

Step 2 – Enter your User ID and click Continue.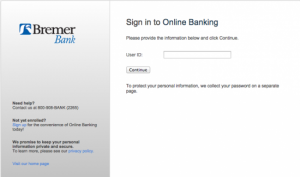 Step 3 – Enter your Password and click Sign On.
Forgot User ID/Password – If User ID or Password has been forgotten, call 800-908-2265 to confirm your Online Banking User ID and Password.
HOW TO ENROLL
Step 1 – If you click the Enroll Now link in the "Access Your Account" section of the homepage, you will arrive at the Bremer Bank's Enrollment Page. They will provide you with information on their Online Banking program. Read the information, choose what type of account you have, and agree to the terms of the Online Banking Agreement and Disclosure, then click Continue.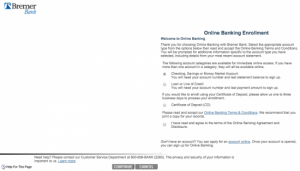 Step 2 – Fill out the Online Banking Enrollment page which requires:
First and Last Name
Last 4 Digits of your SSN
E-mail Address
Zip Code
Account Number
Last Statement Balance
Then click Continue.