Community Trust Bank, Inc. provides personal and business banking products and services in Kentucky, West Virginia, and Tennessee. Its personal banking products and services include personal checking, interest checking, and savings and money market accounts, as well as CDs and IRAs, card services, online services, mobile banking, consumer loans, credit insurance, mortgages, and home equity lines.
Bank Official Website:
• www.ctbi.com
Bank Customer Service Telephone:
• (270) 343-2556
Bank Routing Number:
• 042102694
Bank Swift Number:
• This BANK is not part of the SWIFT network, so there is no number.
Online Banking Mobile Apps:
• iPad
• iPhone
• Android
Branch Locator:
• Branch Finder Link
HOW TO LOGIN
Step 1 – Go to www.ctbi.com – Toward the top right of the page, just inside the "Log In" box, select the account that you would choose to arrive to when you enter your credentials. Click "Go"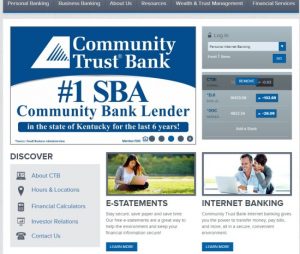 Step 2 – You will arrive at the "24 Hour Consumer Internet Banking" page where you will enter your enter your User ID. As a matter of security, you will enter your password on the following page after clicking "Continue"
Step 3 – Once you enter the next page, enter your password and click "Continue," you will then be directed to your online banking account where you will be able to begin doing business with your bank privately, at your convenience any time of the day.
Forgot Password – Currently, this bank requires that you call the bank if you are unable to recall your password credentials. They will assist you in resetting your password. Call 1-800-282-7762 for assistance.
HOW TO ENROLL
Step 1 – If you would like to enroll in online banking, go to This Page – where you may begin the enrollment process. First you must select an account type by clicking the account you would like to use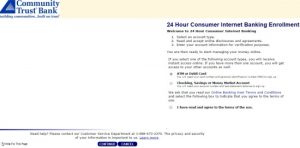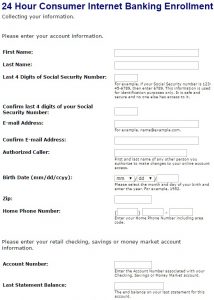 Step 2 – Next, in order to acquire an online banking account, you must read the "Online Banking User Terms and Conditions," and then acknowledge your review of the terms by clicking the statement box, stating you have read and agree to the terms
Step 3 – You will then be sent to the second part of the enrollment process. You must complete all required fields as follows:
Your First name
Last name
The last 4 digits of your Social Security Number
Confirm the last 4 digits of your SSN
Your email address
Confirm your email address
Provide the name of another person for whom you would give permission to call in your stead if needed
Account holder's date of birth (mm/dd/yyyy format)
Your zip or postal code
Your home phone number
Enter your checking or money market account number
Enter the account's last statement balance
Click "Continue"
From here you will be prompted through the remainder of your enrollment privately to protect your banking security. After you have completed your enrollment, you will have the ability to sign in to your account with your Access ID and your Password