Centennial Bank operates as a commercial bank that provides banking products and services to businesses and individuals in the Colorado Front Range, foothills, and selected mountain communities. The company offers checking, savings, money market, certificates of deposit, individual retirement, and health savings accounts; term, real estate, construction draw, small business administration, small business lending fund, and overdraft protection loans; revolving lines of credit, home equity lines of credit, and letters of credit options.
Bank Official Website:
• www.my100bank.com
Bank Customer Service Telephone:
• 1(888) 372-9788
Bank Routing Number:
• 082902757
Bank Swift Number:
• CNTEUS44
Online Banking Mobile Apps:
• iPhone
• Android
• iPad
Branch Locator:
•Branch Finder Link
HOW TO LOGIN
Step 1 – To login in to your Centennial Bank Online Account, begin by going to the Centennial Bank Home Page. Upon reaching the page, look to the right of your screen where two red text boxes should be visible. In the first text box, enter your Online ID, and in the second box, enter the Password for your account. Next, click the white "Sign-in" button to be logged into your account.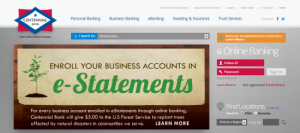 Forgot Password – If you forgot the password you created for your account, click the text that reads "Forgot Password?" under the two red text boxes on the Centennial Bank Home Page. Note that you must have signed in to your online account on the computer or device you are currently using in order to be able to obtain your password. After selecting the text, you will be guided through the required steps in order to retrieve or reset your password.
HOW TO REGISTER
Step 1 – Begin by navigating your computer to the Centennial Bank Home Page. After reaching the page, two red text boxes should be visible to the right of your screen. Under these text boxes will be a smaller red text line that reads "Enroll Now". Click the text to begin the registration process.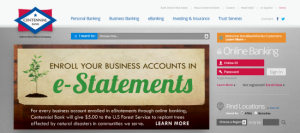 Step 2 – After clicking the text, you will be brought to a virtual document which will need to be completed. You can either type-in the information on your computer or print off the page and fill it in by hand. On the page, it will require you to fill-in your Account Number, your Full Name, your Email Address, your Social Security Number, and several other types of information. Once you have completed all of the required fields of the document, print it off (if you have not already) and bring it to your nearest Centennial Bank Branch.