Central Pacific Bank is a regional commercial bank headquartered in Honolulu, Hawaii. It was founded by Koichi Iida, a Honolulu business leader, with assistance from Sumitomo Bank in Japan. Mr. Iida was President from 1954 to 1960. It is the main subsidiary of Central Pacific Financial Corporation . The bank is the third-largest financial institution in Hawaii, with 39 branches throughout the state.
Bank Official Website:
• www.centralpacificbank.com
Bank Customer Service Telephone:
• 1(800) 342-8422
Bank Routing Number:
• 121301578
Bank Swift Number:
• CEPBUS77
Online Banking Mobile Apps:
• iPhone
• Android
• iPad
Branch Locator:
•Branch Finder Link
HOW TO LOGIN
Step 1 – Begin by navigating your web browser to the Central Pacific Bank Online Home Page. Once you reach the page, look to the upper-left hand side of the page where you will see an empty text box and an orange "Login" button. Enter your Login ID into the text box and click the orange button when finished.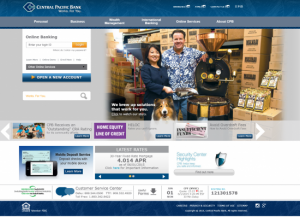 Step 2 – Once you have reached the next page, enter the password associated with your account and click the blue "Submit" button to log into your online banking account.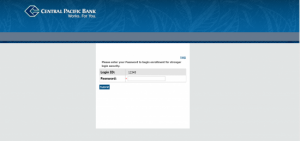 HOW TO REGISTER
Step 1 – To register for an online banking account with Central Pacific Bank, begin by heading to theCentral Bank Online Home Page where you will need to look to the upper-right hand corner of the page. Under an empty text box will be a row of links. Click the one that says "Enroll Now" to begin the registration process.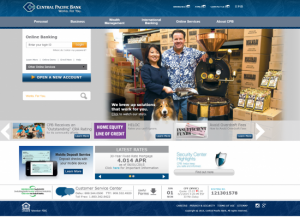 Step 2 – On the next page, scroll to the bottom of the page, and click either of the two orange buttons depending on whether you are  creating an account for a business or for yourself. We will assume you selected the "Personal User" option.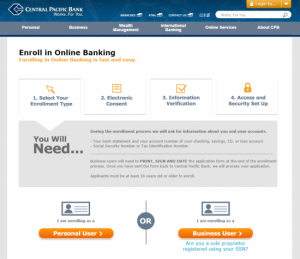 Step 3 – Scroll to the bottom of the next page and select the "I Agree and Continue" button.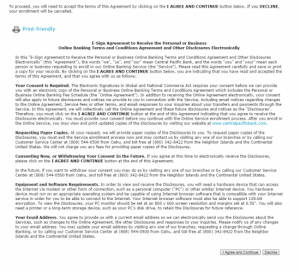 Step 4 – You will be directed to another agreement page where you will be required to scroll to the bottom of the page and click another "I Agree and Continue" button.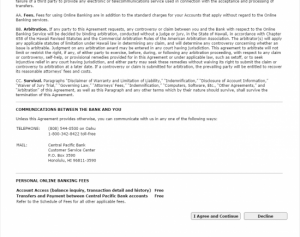 Step 5 – Next, you will be brought to an "Automated Enrollment" page. Enter your Account Number, the Account Type, your Full Name, and your Social Security Number. Click the "Continue" button when you have finished inputting the information. Follow the remaining steps and complete any required fields to create an Online Banking Account with Central Pacific Bank.