As of August 3, 2015, CIT Bank was acquired by CIT Bank, National Association. CIT Bank provides banking products and services in the United States. The company offers a range of savings accounts, individual retirement accounts, and certificates of deposit. It also provides factoring, receivable management products, and secured financing for apparel, textile, furniture, home furnishing, and consumer electronic industries; and secured loans collateralized by accounts receivable.
Bank Official Website:
• www.bankoncit.com
Bank Customer Service Telephone:
• 1(855) 462-2652
Bank Routing Number:
• 124084834
Bank Swift Number:
• CITXUS55
Online Banking Mobile Apps:
• iPad
• iPhone
• Android
Branch Locator:
• Branch Finder Link
HOW TO LOGIN
Step 1 – Begin by heading to the CIT Bank Online Home Site. Once you have reached the site, click the orange "Sign In" button in the top-right hand corner. After clicking the button, enter your Online Banking ID and click the orange "Continue" button.
Step 2 – On the next page, verify your personal image to ensure you entered the correct Online Banking ID. If the image is correct, enter the Online Banking Password for your account and click the orange "Submit" button.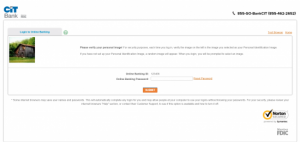 HOW TO REGISTER
Step 1 – Navigate to the CIT Bank Online Home Site. In the upper right hand corner, select the orange button that reads "Open an account".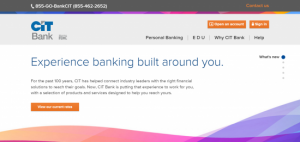 Step 2 – Next, select which type of account you would like to create with the drop-down tab and select the orange "Apply now" button. We will assume you selected the "Individual" option in the drop-down tab for the remaining steps.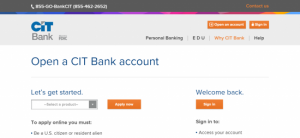 Step 3 – On the next page, choose which type of deposit account you would like to open. Once you have chosen an option select the orange "Next" button.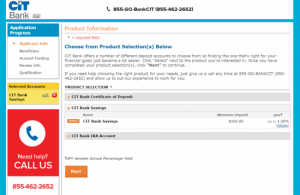 Step 4 – Next, enter all of the required personal information into the empty text boxes. This includes your full name, your social security number, your contact information, and several other points of information. When you have finished inputting all of the required information, click the orange "Next" button. From here on, you will need to follow the steps laid out by CIT Bank to complete your account application.