First National Bank of Picayune offers personal and commercial banking services. The bank was founded in 1947 and is based in Picayune, Mississippi. First National Bank of Picayune operates as a subsidiary of First National Corporation of Picayune.
Official Website:
Bank Customer Service Telephone:
Bank Routing Number:
Bank Swift Number:
This BANK is not part of the SWIFT network, so there is no number.
Online Banking Mobile Apps:
Branch Locator:
First National Bank of Picayune Online Banking Login
HOW TO LOGIN
Step 1 – Go to www.fnbop.com – Once you're on the home page, to the top right of the page, click the mouse icon in the "Online Banking" box.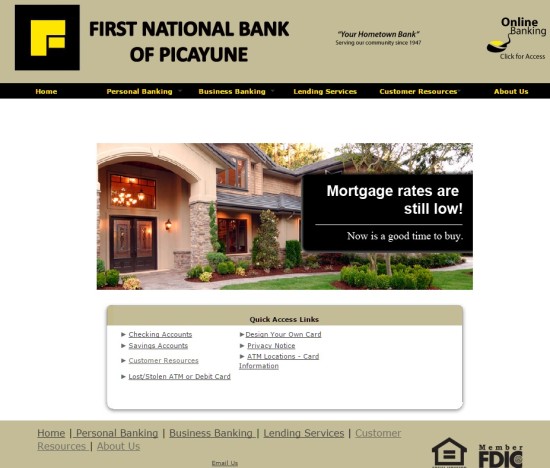 Step 2 – You will be taken to the "Login to Online Banking" page, where you will enter your Login ID. Click "Validate."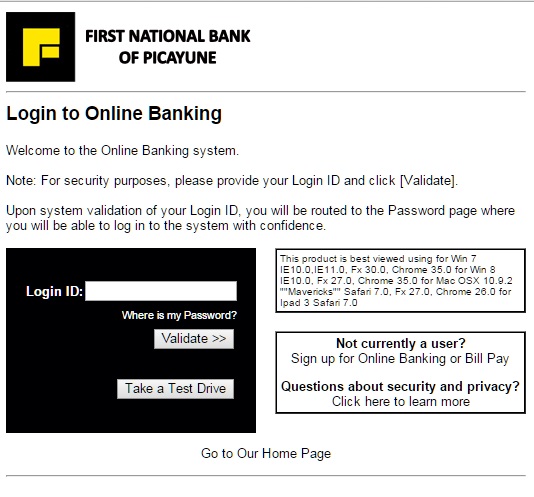 Step 3 – You will then be taken to a security layer where you will be asked to accept a text or telephone call from the system that will provide you with a one time code. Once received, you will click "Continue with Security Code"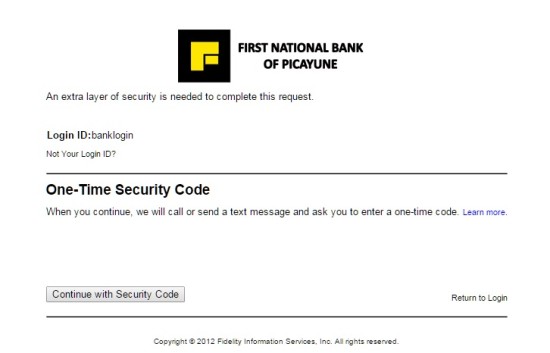 Step 4 – You will then be taken to a section whereas you will select which method for which you wish to receive your code. Make your selection by clicking the appropriate bubble. Click "Continue."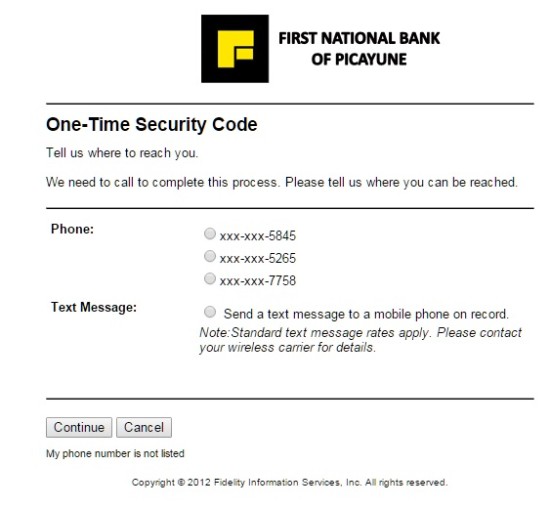 Step 5 – After you receive your code, you will be taken to a page where you will enter the code, you will be prompted for a password and then you will  gain access to your online banking page where you may continue to do your banking business
Forgotten Password – If you find you aren't able to recall your password, you must call customer service at 1-601-749-3200 or walk into any of the banking branches. Either way a customer representative will assist in resetting your password.
HOW TO ENROLL
Step 1 – If you're prepared to enroll in online banking services, begin with this "Enrollment Form" – Complete all of the required information fields. Click "Proceed"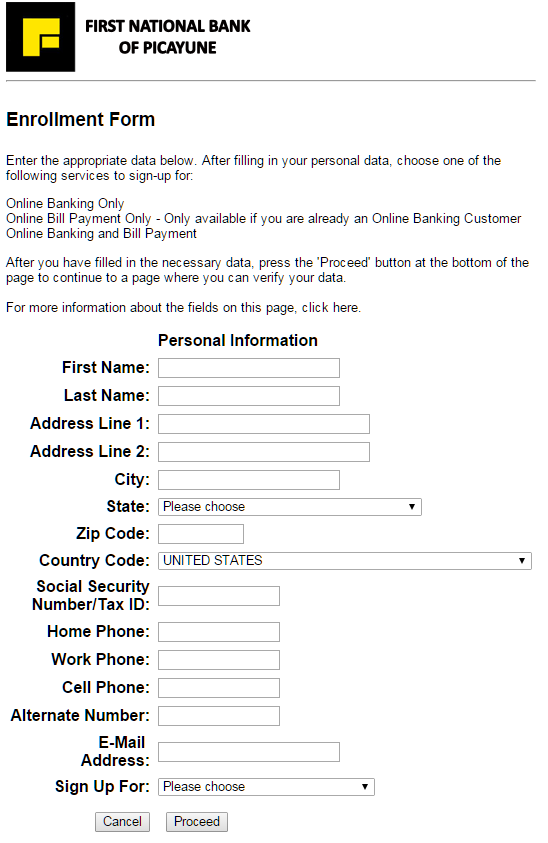 Step 2 – From here you will be prompted, privately, through the remainder of the enrollment process. Once enrollment is complete and all verification is completed, you will then be able to login to your Online Banking services and begin conducting your banking business at your discretion.