Horton National Bank is a branch of the Girard National Bank system. The Girard National Banking system has been in operation for just over 80 years and is family owned. The bank has branches throughout the states of Kansas and Colorado. Their goal is to keep a community bank way of doing business, while offering the best possible online and in person services available. Some of their online service features offered to both consumer and business accounts are, online management of checking and savings.
Official Website:
Bank Customer Service Telephone:
Bank Routing Number:
Bank Swift Number:
This BANK is not part of the SWIFT network, so there is no number.
Online Banking Mobile Apps:
Branch Locator:
Horton National Bank Online Banking Login
HOW TO LOGIN
Step 1 – Go to www.gn-bank.com – In the "Online Banking & Bill Pay" box just to the left center of the home page, enter your User Name. You would then enter the visible characters in their order into the "Random Code" field. Click "Submit"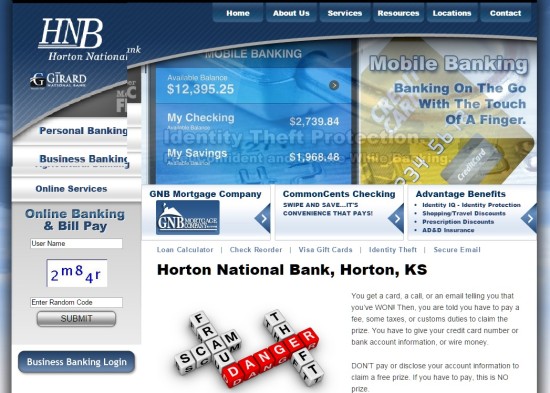 Step 2 – After you've entered your User Name and entered the Random Code, as an added layer of security, you will be taken to a separate page where you will enter your password. From there you will be directed to your personal Online Banking account and may review balances and proceed with any banking transactions.
Forgotten Password – Should you find you cannot remember your password, go to This Page and click the "Forgot your password?" button. You will provide some security information to protect the integrity of your banking information, you will then have the opportunity to reset your password. Once complete, you will then regain access to your online banking services.
HOW TO ENROLL
Step 1 – Go to This Page – if you are now prepared to enroll in online banking services.  Read the information on the beginning page of the enrollment area and then click "Let's Get Started"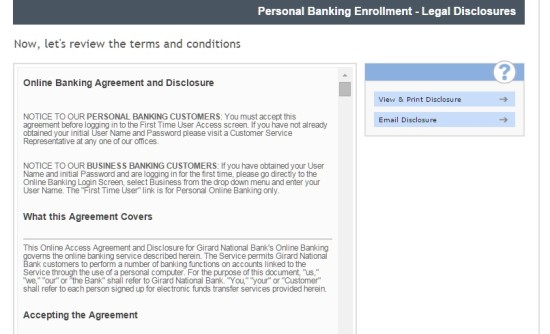 Step 2 – You will now be presented with the bank's Terms and Conditions. You must review the terms before proceeding. Once you've reviewed the terms click the acknowledgement box at the bottom of the page, stating you agree to the Terms and Conditions of the banks policies and services. Click "Next"
Step 3 – Your next step will be to enter your User Name and Password, as well you will enter a human verification code. Enter the characters into the code box and click "Next"
Step 4 – From here, you will be guided through the entire enrollment process, privately. Once you have completed your Online Banking Enrollment, you will then be able to login any time of the day to review your account and conduct your banking business from your computer or your respective mobile device.