Five Star Bank provides personal and commercial banking services to individuals, municipalities, and businesses in Western and Central New York. Its personal banking services include checking accounts, savings, certificates of deposit, individual retirement accounts, health savings accounts and money market accounts.
Official Website:
Bank Customer Service Telephone:
Bank Routing Number:
Bank Swift Number:
This BANK is not part of the SWIFT network, so there is no number.
Online Banking Mobile Apps:
Branch Locator:
HOW TO LOG IN
Step 1 – To log in online with Five Star Bank users must go to the Homepage and use the ´Online Branch´ facility at the top left of the page. Here they must enter their ´User ID´ and click ´Sign In´.
Step 1 – If a user has lost or forgotten their password they must click on the link ´Forgot´ which is just below the ´Online Branch´ facility on the homepage.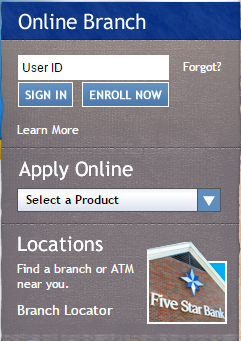 Step 2 – The user is directed to a second page where they must complete the blank fields with their ´Teller ID´, ´Email Address´ and ´Email Subject´.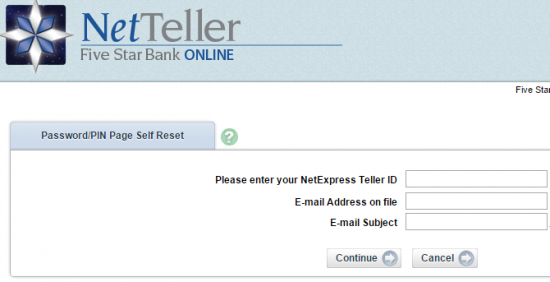 If a user forgets their user ID they can contact the bank by telephone on 1 (877) 226-5578 or find further advice at their Local Branch.
HOW TO ENROLL
Step 1 – If an account holder with Five Star Bank needs to make an online account they must enroll by clicking the link ´Enroll Now´ below the ´Online Branch´ section on the homepage.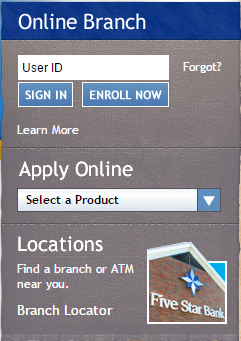 Step 2 – The second page users are directed to will need the user to click ´I Agree´ to the terms and conditions of the bank.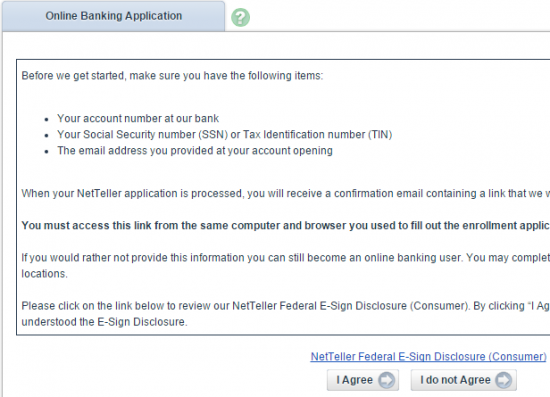 Step 3 – The third page users arrive at will require the completion of the ´Blank Fields´with their ´Social Security Number´, ´Account Number´ and ´Email Address´ and then clicking ´Continue´.