As of January 10, 2017, Lake Sunapee Bank Group was acquired by Bar Harbor Bankshares. Lake Sunapee Bank Group operates as the holding company for Lake Sunapee Bank, fsb that provides a range of banking services to small and middle-market businesses, and individuals. It operates in two segments, Banking and Wealth Management. The company's deposit products include business checking, money market, savings, NOW, and certificate accounts.
Bank Official Website:
•www.snl.com/irweblinkx
Bank Customer Service Telephone:
• 603-863-0886
Bank Routing Number:
• 211770200
Bank Swift Number:
• This BANK is not part of the SWIFT network, so there is no number.
Online Banking Mobile Apps:
• iPhone
• Android
Branch Locator:
•Branch Finder Link
HOW TO LOGIN
Step 1 – If a user of online banking wants to access their account they will need to go to the bank`s Homepage and look for `E-Banking Center` near the top right of the page, select the type of banking they require from the drop down menu and then click `Go`

Step 2 – Next the user must enter their `Online Banking ID` and then click `Submit`.

Forgotten User ID/Password
If the user of online banking is not able to remember their login details they will have to contact the bank by either calling 1 (800) 281-5772 with their inquiry or by visiting their `Local Branch` to speak to a member of staff.
HOW TO ENROLL
Step 1 – If a first time user needs to open an online account they should enroll by going to the bank`s homepage and looking for `E-Banking Center` towards the top right of the page. Below this is a link `Enroll` which they must click on.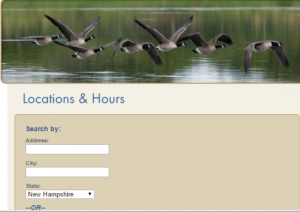 Step 2 – The next page will require the user to click on `I Agree` to continue with enrollment.

Step 3 – Now the user must select their `Account Type`, they must enter their `Social Security Number`, `Account Number` and `Email Address` and then click `Continue`.