Willamette Valley Bank provides banking products and services. The bank's products include checking accounts, savings accounts, money market accounts, certificate of deposits, retirement accounts, and business and mortgage loans. Additionally, it offers online banking services. The bank was founded in 2000 and is based in Salem, Oregon. Willamette Valley Bank operates as a subsidiary of Oregon Bancorp, Inc.
Bank Official Website:
• www.willamettevalleyban
Bank Customer Service Telephone:
• 503-485-2222
Bank Routing Number:
• 123206859
Bank Swift Number:
•This BANK is not part of the SWIFT network, so there is no number.
Online Banking Mobile Apps:
• iPhone
• Android
Branch Locator:
•Branch Finder Link
Willamette Valley Bank Online Banking Login
HOW TO LOGIN
Step 1 – Go to www.willamettevalleybank.com – Once you reach the home page, enter your Access ID. Click "Submit"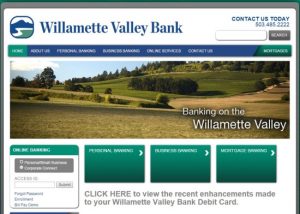 Step 2 – After submitting your Access ID, for the security of your information, you'll be taken to a separate page to enter your Password. Enter your password. Click "Submit"
Step 3 – After you've submitted your login credentials, you will be taken to your online banking page where you will be able to review accounts and do banking transactions.
Forgotten Password – If you find that you are unable to remember your password, go to the "Forgot Password" page. You will be asked to complete and submit three fields provided.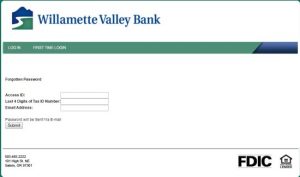 After your provide and submit your security information, your password will be sent to you from the system, to your email address on file with the bank. You will then again have access to your Online Banking services and may then resume your banking activities.
HOW TO ENROLL
Step 1 – If you would like to enroll in online banking services, this bank will require that you first agree to the terms and conditions of the site. Go to the "Online Access Agreement" and review the terms. When you've completed your review of the terms, click "I Agree"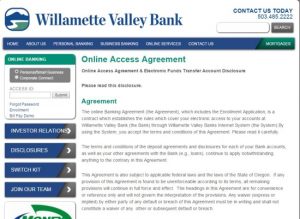 Step 2 – After you've agreed to the terms, you will then be taken to the "First Time User Authentication"page, which is the first part of the enrollment process. Complete all of the required fields provided in the form. Click "Submit"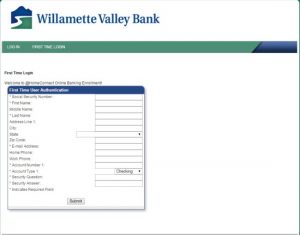 Step 3 – When you've submitted your information, you will then be prompted privately through the remainder of the online banking enrollment process. After completing enrollment, you will be able to login with the Access ID and Password information you've selected and begin your online banking reviews and doing your personal transactions.