First National Bank Texas provides personal and business banking solutions in Texas, Arizona, and New Mexico. It offers checking and savings accounts, business accounts, CDs, IRAs, credit cards, consumer and business loans, and mortgages; MasterCard credit, debit, prepaid, and gift cards; and online services. The company also provides personal, business, home equity, and home improvement loans. First National Bank Texas was formerly known as First National Bank and changed its name to First National Bank Texas in July 1998.
Bank Official Website:
• www.1stnb.com
Bank Customer Service Telephone:
• 254-554-6699
Bank Routing Number:
• 111906271
Bank Swift Number:
•This BANK is not part of the SWIFT network, so there is no number.
Online Banking Mobile Apps:
• iPhone
• Android
Branch Locator:
•Branch Finder Link
1st National Bank of Texas Online Banking Login
HOW TO LOGIN
Step 1 – Enter 1st National Bank of Texas' Webpage and input your Username in the "LOG IN TO YOUR ACCOUNT" section, then you must click LOG IN.

Forgot Username/Password – Click the Forgot your username? link if you cannot remember it and input the following: Email address, SSN/TIN, and Account number, then click Submit.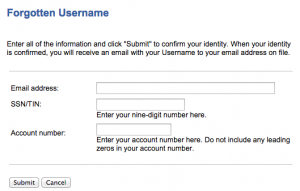 If you can't remember your Password, you must reset it by clicking the Forgot your password? link on the homepage. Provide your Username, SSN/TIN, and Account number, then click Continue.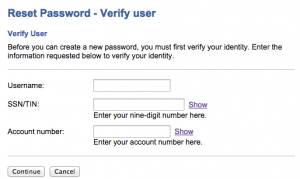 HOW TO ENROLL
Step 1 – Go to 1st National Bank of Texas' Enrollment Page and read the information provided, then click Continue.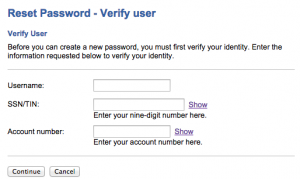 Step 2 – Select "I am an existing First National Bank Texas customer" and click Continue.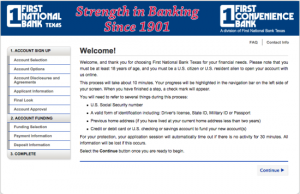 Step 3 – Input your Account Number and Social Security Number, then click Continue.