As of October 1, 2015, 1st National Community Bank was acquired by The Farmers National Bank Of Canfield. 1st National Community Bank provides banking products and services. It offers checking and savings accounts, loans, debit and credit cards, online banking, telephone banking, trust services, coin appraisals, and investment management for personal needs; and loans, deposit accounts, trusts services, online banking, merchant services.
Bank Official Website:
• www.1stncb.com
Bank Customer Service Telephone:
• 330-385-9200
Bank Routing Number:
• 103012843
Bank Swift Number:
•This BANK is not part of the SWIFT network, so there is no number.
Online Banking Mobile Apps:
• iPhone
• Android
Branch Locator:
•Branch Finder Link
1st National Community Bank Online Banking Login
HOW TO LOG IN
Step 1 – To access online accounts users at 1st National Community Bank can visit the banks Homepage  and click on the link ´Login Here´ at the top right of the page.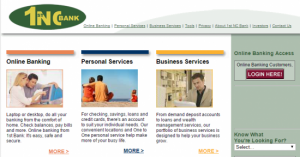 Step 2 – The link directs users to a new page where they should complete the blank field with their ´User ID´ then click ´Continue´.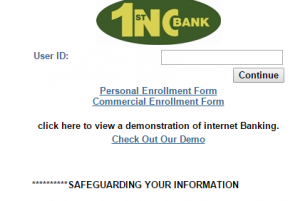 Forgotten User ID/Password
If a user hast lost or forgotten their contact details they should call the bank directly by telephone on 1(330) 385-9200. Alternatively they can visit a Local Branch.
HOW TO ENROLL
Step 1 – Users of 1st National Community Bank who would like to start banking online must enroll. To do this they go to the homepage and click the link ´Login Here´ at the top right of the page.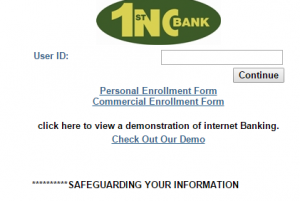 Step 2 – When directed to a new page users must click the link ´Personal Enrollment Form´ which is in the center of the page towards the top.
Step 3 – Next the browser will open a final page and the person wishing to enroll must complete all the relevant ´Blank Fields´.
Required
Name
Social security number
Address
ZIP code
Telephone number
Email Address
Mothers maiden name
Date of birth
Branch location
ATM card number