21st Century Bank provides consumer and business banking products and services. It offers checking accounts, such as interest and basic accounts; savings accounts, including money market and regular savings accounts; loans, which include home equity loans and lines of credit, ready credit, auto loans, RV and boat loans, snowmobile and motorcycle loans, and personal watercraft loans; and cash and check cards.
Bank Official Website:
• www.21stcenturybank.com
Bank Customer Service Telephone:
• 763-479-2178
Bank Routing Number:
• 091913685
Bank Swift Number:
•This BANK is not part of the SWIFT network, so there is no number.
Online Banking Mobile Apps:
• iPhone
• Android
Branch Locator:
•Branch Finder Link
HOW TO LOG IN
Step 1 – To log on to an online bank account the user must click ´Sign-On´ at the top right of the Homepage.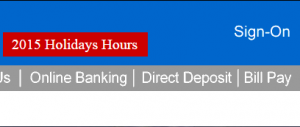 Step 2 – Users are directed to a second page where they must enter their ´Online Banking ID´ into the blank field and then click ´Submit´.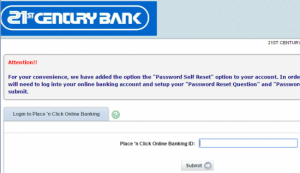 Forgotten User ID/Password
If a user can´t remember their log in details they must contact the bank by visiting their Local Branch or if they wish they can telephone on 1(763) 783-7140.
HOW TO ENROLL
Step 1 – To enroll for an online account customers of 21st Century Bank must contact the Local Branch where they must complete an enrollment form and bring suitable personal ID.