It is  part of a family of banks with over $1 billion in assets, they help individuals and businesses, both big and small, with any of their banking and lending needs.
They strive to make banking fast, easy and personal. From having many branches open 6 days a week, to providing loads of online and mobile banking tools—we do it all so you can do your banking on your schedule. They're even located in many Walmart locations with extended evening and weekend hours, so you can bank where you shop.
You can find our traditional and in-store branches throughout Colorado, Kansas, Missouri, Arizona, and Florida. Feel free to stop by a branch near you or explore our site. We'd love to get to know you and help you in any way we can.
Bank Official Website:
• www.academybank.com
Bank Customer Service Telephone:
• 1 (888) 929-2265
Bank Routing Number:
• 107001481
Bank Swift Number:
• This BANK is not part of the SWIFT network, so there is no number.
Online Banking Mobile Apps:
• iPhone
• Android
• iPad
Branch Locator:
•Branch Finder Link
HOW TO LOG IN
Step 1 – If a user wants to open their online banking account they need to go to the bank´s Homepage and look for the ´Log In To Your Account´section at the top left of the page. The user must select ´Business/Personal´ by checking the box, enter their ´Access ID´ and select from the drop down menu the category they require. Then click ´Login´.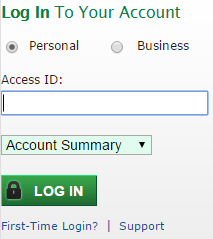 Forgotten User ID/Password
Step 1 – Users who can not remember or find their password must click the link ´Support´ below the ´Log In To Your Account´ section on the homepage.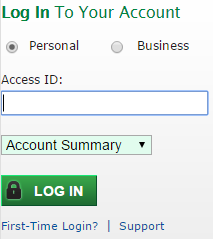 Step 2 – On the next page the user must complete the Blank Fields.
Required
Secret code (must telephone 1 (888) 929-2265)
Name
Daytime telephone number
Evening telephone number
Mobile telephone number
Social security number
Email
Address
Account number
Support question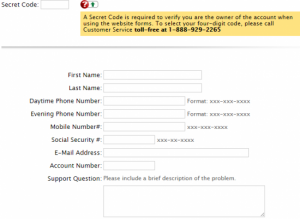 HOW TO ENROLL
Step 1 – To start an online banking account with Academy Bank the customer must go to the banks homepage and click the link ´First Time Login´ which is below the ´Log In To Your Account´ to the left of the page.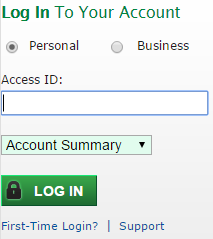 Step 2 – Users are directed to  page with information about what details they need to enroll. Users must click ´Sign Up´ to continue.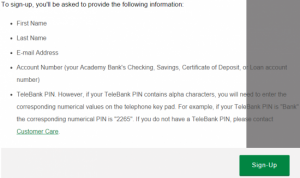 Step 3 – This page will require the completion of the ´Blank Fields´ and then clicking ´Submit´.
Required
First Name
Last Name
E-mail Address
Account Number
TeleBank PIN.