Alpine Bank provides retail, business, wealth management, mortgage, and electronic banking services. It offers personal and business banking products, such as checking and savings accounts, money market accounts, and benefit/memorial accounts; and loans and lines, mortgages, green lending, student loans, cash management, payment processing, and receivables funding. The company also provides online and mobile banking services, debits cards and rewards, credit cards and related services, and gift cards and balances. Alpine Bank was formerly known as Alpine Bank And Trust and changed its name to Alpine Bank in December 1995.
Bank Official Website:
• www.alpinebank.com
Bank Customer Service Telephone:
• 1(888) 425-7463
Bank Routing Number:
• 102103407
Bank Swift Number:
• APPIUS55
Online Banking Mobile Apps:
• iPhone
• Android
• iPad
Branch Locator:
•Branch Finder Link
HOW TO LOGIN
Step 1 – To login to an Alpine Bank account customers must go to their Homepage and find the `Alpine Online Login´ at the top of the page.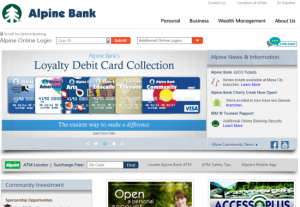 Step 2 – Users must next enter a user ID in the adjacent box and then click ´Submit´.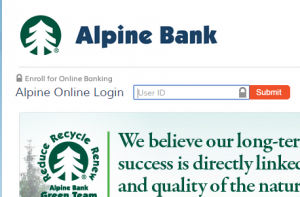 Forgotten User ID/Password When users can not remember their user ID or Password they may contact Alpine Bank Internet Banking directly by telephone on 1(800) 551-6098 or by visiting their local branch.
HOW TO ENROLL
Step 1 – To become a member of Alpine Online Banking holders of existing accounts must use the online Enroll facility. Under the Alpine Bank logo at the top left of the page is written `Enroll For Online Banking`, Applicants must click on this.
Step 2 – Half way down the next page at the left side is written ´Enroll Now here´with a link, click on this.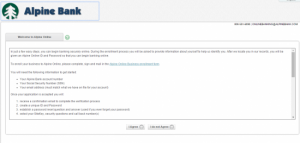 Step 3 – The terms and conditions will appear which applicants must click on ´I Agree´ at the bottom of the page. Now the Verification of Information page will appear.
Required
Social security number
Bank account number