Amegy Bank of Texas (previously known as Southwest Bank of Texas) is a US bank operating in Texas that is a subsidiary of Zions Bancorporation. It is headquartered in the Five Post Oak Park building in the Post Oak Park business park in Houston, Texas.
As of 2005 it was the largest bank in Houston. As of 2010, the bank has USD $11 billion in assets, 80 locations and 2000 employees within the state of Texas.
Bank Official Website:
• www.amegybank.com
Bank Customer Service Telephone:
• 1(888) 462-6349
Bank Routing Number:
• 113011258
Bank Swift Number:
• ZFNBUS55
Online Banking Mobile Apps:
• iPhone
• Android
• iPad
Branch Locator:
•Branch Finder Link
HOW TO LOGIN
Step 1 – Go to Amegy Bank Website and click the gold login button at the top of screen.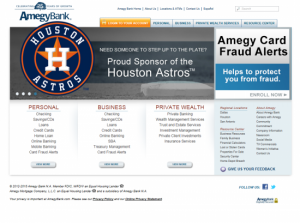 Step 2 – Once you have clicked the login button, locate the two empty text boxes on the left hand side of the page, and enter your login ID and password. Once you have entered in your login information, click the orange "Go" button to the right of the text boxes. If everything was entered correctly, you should now be logged into your account.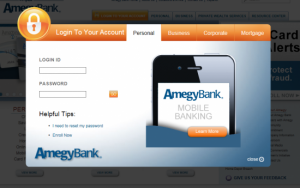 Forgot Username/Password – If a user has forgotten their password they must click on "I need to reset my password" and enter their Login ID. Once the user has successfully answered the security questions, a temporary password will be emailed to their email on file and then they will need to create a new password upon their next login.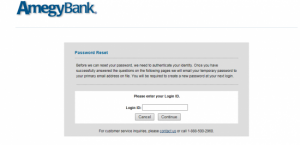 HOW TO REGISTER
Enrolling online is fast and easy with Amegy Bank. (Note: Online enrollment is only available to existing Amegy customers with a current Amegy Bank Checking, Money Market or Savings account and a ATM card or Visa Debit Card.)
Step 1 – Go to Amegy Bank's Website and click the orange login button at the top of the screen.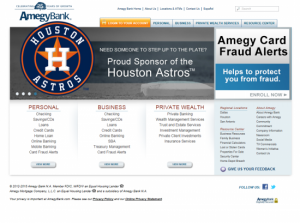 Step 2 – Once you have clicked the button that says "Login to Your Account", a smaller screen will pop-up into your view. Looking towards the bottom left corner of the screen, you should see two bullet points next small blue text. Click the lower text to continue will the registration process.
Step 3 – After navigating to the next page, look to the very bottom of the screen. To continue with the registration process, you will have to choose one of two bubbled options. Choose whichever option applies to you; if you chose the PC Banking option, you will also be given the option for bill pay, which is not necessary for registration. Once you have chosen the option, click the orange continue button.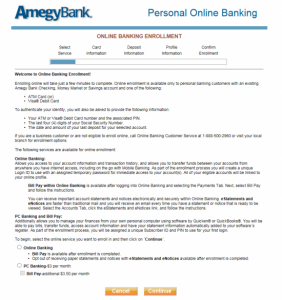 Step 4 – Once you reach the next page, enter your ATM/debit card number, choose either "ATM" or "Visa Debit" from the drop down menu, and finally enter the last four digits of your social security number. Once those fields have been entered, click on the orange continue button. From here on out, you will need to follow the on-screen instructions and input any required personal information. If everything is entered correctly, you will then have created an online account with Amegy Bank.