Andrew Johnson Bank, a community bank, provides personal and business banking services in East Tennessee. Its personal banking services include budget, time of your life, tailor-made, and sky high checking accounts; money market, certificate of deposit, health savings, and individual retirement accounts; personal loans comprising in-house mortgages, personal line of credit, vehicle/marine loans, and agricultural loans; and other banking services, such as ATM/debit cards, online banking, mobile banking, direct deposits, and safe deposit boxes.
Bank Official Website:
• www.andrewjohnsonbank.com
Bank Customer Service Telephone:
• 1 (877) 783-1000
Bank Routing Number:
• 064202860
Bank Swift Number:
• This BANK is not part of the SWIFT network, so there is no number.
Online Banking Mobile Apps:
• iPhone
• Android
• iPad
Branch Locator:
•Branch Finder Link
Andrew Johnson Bank Online Banking Login
HOW TO LOG IN
Step 1 – If a user wishes to log in to their account they must go to the bank`s Homepage where they need to look for `Online Banking Login` towards the center left of the page. Here they need to select the type of banking they require and then enter their `Access ID` and then click `Login`.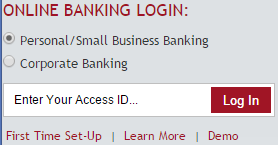 Forgotten User ID/Password
Step 1 – If a user is not able to remember their login details they will need to contact the bank. This is easily done by telephone calling this number 1 (877) 783-1000. If the customer would rather speak to a member of the bank`s staff in person they can visit their `Local Branch`.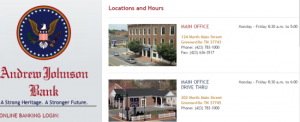 HOW TO ENROLL
Step 1 – If a user would like to enroll they must first go to the bank`s homepage where they need to look for `Online Banking Login` towards the center left of the page. Below this there is a link `First Time Set-Up` which they must click on.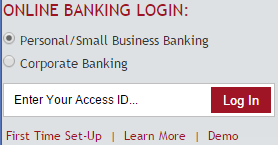 Step 2 – Next the customer will be required to agree to the bank`s terms and conditions and then fill in the relevant `Blank Fields`, then click `Submit`.
Required
Name
Email address
Account number
Account type
Security question
Security answer
Password