Applied Bank, a state chartered bank, provides personal and commercial banking services in Delaware. It offers checking, savings, money market, club, certificates of deposit, and individual retirement accounts; secured and unsecured credit cards; personal loans, personal lines of credit, auto loans, home equity loans, and home equity lines of credit; commercial real estate and business loans; and other banking services, including direct deposits, automatic payments or withdrawals, and online bill payments. Applied Bank was formerly known as Applied Card Bank and changed its name to Applied Bank in January 2007.
Bank Official Website:
• www.appliedbank.com
Bank Customer Service Telephone:
• 1(888) 839-7952
Bank Routing Number:
• 031100966
Bank Swift Number:
• This BANK is not part of the SWIFT network, so there is no number.
Online Banking Mobile Apps:
•No Mobile Apps Available
Branch Locator:
•Branch Finder Link
HOW TO LOG IN
Step 1 – Users who wish to access the online facility must go to the banks Homepage where they must find the ´Customer Login´ towards the top left of the page.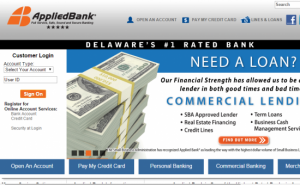 Step 2 – Next users must select the account they wish to log in to from the drop down menu, then enter their ´User ID´ in the blank field and finally click ´Sign On´.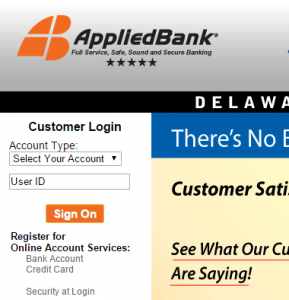 Forgotten User ID/Password
If a user can not remember their user ID or password they can contact the bank directly by telephone on 1(888) 839-7952 or they can visit their Local Branch for further information.
HOW TO ENROLL
Step 1 –  Account holders who wish to bank online must look for the link ´Register For Online Account Services´ which is just below the ´Customer Login´ on the homepage. Here customers must select the type of online account they wish by checking the relevant link for either ´Bank Account´ or ´Credit Card´.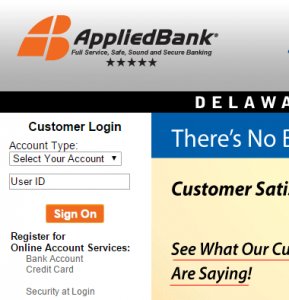 Step 2 – Users are directed to a new page where they will find Applied Bank´s Banking Agreement. They must scroll down to the bottom of the page and click ´Accept´ if they wish to continue with their enrollment.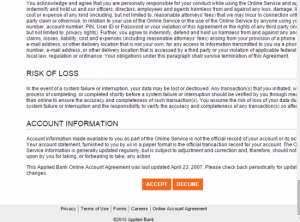 Step 4 – Users are directed to a fourth page where they are required to complete the blank fields with the relevant personal information and then clcik ´Submit´.
Required
Access ID
Account type
Password