Empire Bank offer online banking to current Empire Bank account holders. Online banking can be accessed by any computer of piece of mobile technology for example a smartphone or tablet. The services available with online banking include all the usual facilities such as receiving payments and checking statements but online banking enhances these traditional services for example by making statements available instantly or by having your bills sent to you digitally by ´E-bill´.
Bank Official Website:
• secure.centralbank.net
Bank Customer Service Telephone:
• 1(877) 331-2997
Bank Routing Number:
• 086500634
Bank Swift Number:
• This BANK is not part of the SWIFT network, so there is no number.
Online Banking Mobile Apps:
• Android
Branch Locator:
•Branch Finder Link
HOW TO LOG ON
Step 1 – To log on to Empire Bank online banking users must go to the Homepage and look for ´ACCOUNT LOGIN´ at the top left side of the page, then enter their ´User ID´into the relevant field, users must choose if they wish to log in to personal or business banking and then click on ´LOGIN´.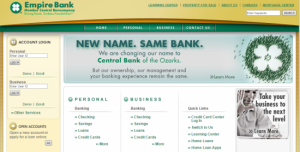 Forgot User ID/Password If a customer can not remember their user ID or password then they can contact Empire Bank technical support team directly by phone between 9:00 am – 17:00 pm Mon – Fri on free of charge on 1(877) 331-2997. Alternatively customers can visit their local branch. .
HOW TO ENROLL
Users wishing to enroll for online banking services with Empire Banking must go to the homepage and click on the link ´Enroll´ at thee top left of the page under the ´ACCOUNT LOGIN´.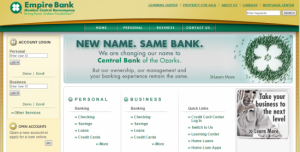 Step 2 – The user will be redirected to a second page where they will be required to complete the ´Blank Fields´.
Required
Name
Date of birth
Last 4 digits of their social security number
Type of account