Bank of Dawson offers banking products and services. It offers checking accounts, savings and investments, time deposits, and loans; and online banking services. The company was founded in 1911 and is based in Dawson, Georgia. Bank of Dawson operates as a subsidiary of Dawson Bancshares.
Bank Official Website:
• www.bankofdawson.com
Bank Customer Service Telephone:
• 229-995-2141
Bank Routing Number:
• 061207651
Bank Swift Number:
• This Bank is not part of the SWIFT network, so there is no number.
Online Banking Mobile Apps:
• No Mobile Apps Available.
Branch Locator:
•Branch Finder Link
HOW TO LOGIN
Step 1 – Visit Bank of Dawson's webpage and select Online Banking to the left of the homepage.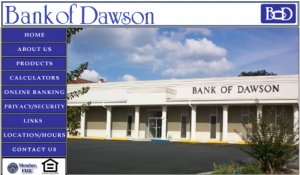 Step 2 – Once you have arrived at the "Bank of Dawson Online Banking" page, click the link that says:  RETURNING USERS LOG IN.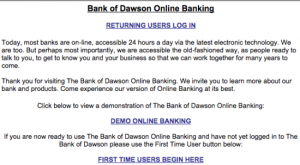 Step 3 – Supply your "Access ID" in the empty space, then click Submit to proceed.

Step 4 – Enter your "Password" that you created when you made your account and select the Submit button.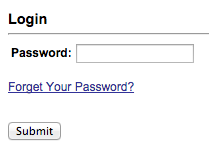 Forgot Access ID/Password – Can't recall your "Access ID"? Call the bank's customer service line and explain to a representative of your issue. You will then be asked info about your account so they can verify that it really is you and not a breach of security. Once you have been identified, the associate will guide you through the process of recovery. Click the Forgot Your Password? link to arrive at the "Forgotten Password" page. You must enter the following information: Access ID, Last 4 Digits of Tax ID Number, and Email Address. Once all info has been inputted, click the Submit button to move further in the process.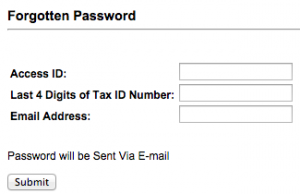 HOW TO ENROLL
Step 1 – Click the FIRST TIME USERS BEGIN HERE link on the "Online Banking" page. You will be provided a copy of the terms and conditions agreement. Read the following, if you concur, click I Agree.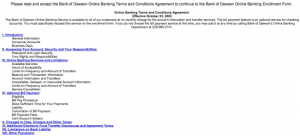 Step 2 – The next page provides a printable form that needs to be filled out with certain information. Print it, fill it out, sign and date it, then you must either mail it, fax it, or bring it in person to the bank to enroll in their Online Banking program.