Ashton State Bank (Ashton, IA) provides personal and commercial banking products and services in Iowa. It offers checking, savings, and individual retirement accounts; certificates of deposit; and credit and debit/ATM cards. The company also provides agricultural, commercial, consumer, and real estate loans; money orders, account balancing assistance services, telephone and wire transfers, online banking services, trust services, and investment services. The company was founded in 1884 and is based in Ashton, Iowa. Ashton State Bank (Ashton, IA) operates as a subsidiary of Ashton Bancshares, Inc.
Bank Official Website:
• www.ashtonstatebank.com
Bank Customer Service Telephone:
• 800-524-3505
Bank Routing Number:
• 073911812
Bank Swift Number:
• This BANK is not part of the SWIFT network, so there is no number.
Online Banking Mobile Apps:
• No Mobile Apps Available
Branch Locator:
•Branch Finder Link
HOW TO LOGIN
Step 1 – Click the Log On link under the "Online Banking" section of the Ashton State Bank homepage, which is found in the upper, right corner of the webpage.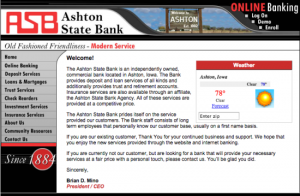 Step 2 – Input your the User ID you acquired from the bank in the empty space, then click Continue.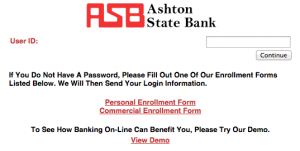 Forgot User ID/Password – Contact the bank's customer service department if you cannot remember either your User ID or Password. The bank will then help you retrieve your forgotten information so you can access your account once again. Be prepared to provide a representative with personal information about your account so they can confirm your identity and avoid a breach of security.
HOW TO ENROLL
Step 1 – Click the "Enroll" link of the main webpage to enter the Ashton State Bank's enrollment page. Click I Agree if you give the bank permission to set up services for you as an on-line banking customer.

Step 2 – Fill out the Ashton State Bank enrollment form which requires you to provide the following pertinent information:
Social Security Number
Address
City
State
Zip
Phone
Email Address
Date of Birth
Mother's Maiden Name
Then enter the "Security Value" and click the Submit button to move on to the next step of the enrollment process.