The Maries County Bank offers personal and commercial banking services. The bank was founded in 1900 and is based in Vienna, Missouri. The Maries County Bank operates as a subsidiary of Maries County Bancorp, Inc.
Bank Official Website:
• www.mariescountybank.com
Bank Customer Service Telephone:
• 1-573-422-3323
Bank Routing Number:
• 081512407
Bank Swift Number:
• This BANK is not part of the SWIFT network, so there is no number.
Online Banking Mobile Apps:
• iPhone
• Android
Branch Locator:
•Branch Finder Link
HOW TO LOGIN
Step 1 – Go to www.mariescountybank.com – In the "Online Banking" box, located at the top left of the page, enter your Username. Click "Login"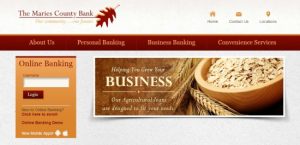 Step 2 – Once you've submitted your Username, you will be taken to a secure page where you will enter your password. Click "Login" You will then be directed to your Online Banking page where you will have the ability to do your banking business.

Forgotten Password – If you're unable to remember your password, from the password page, enter your password and click the "Forgot Password?" box. Click "Login"

Once you've continued, you will be prompted privately through a password reset process. After you've reset your password, you will again have the ability to login and access your online banking services.
HOW TO ENROLL
Step 1 – If you're ready to enroll in online banking services, begin by going to the Online Banking Enrollment Page.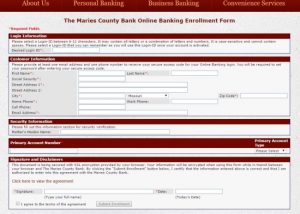 Step 2 – When you reach the enrollment page, you must complete all of the required information on the form. You must then click the Terms and Conditions link inside of the form and review it. Once you've reviewed the Terms, provide your signature by typing your full name inside of the signature box. Provide the date of the signature, click the agreement box and click "Submit Enrollment" You will then receive access to your Online Banking account and will be able to conduct your banking business 24 hours per day.