Bank Mutual offers personal, small business, and commercial banking products and services in Wisconsin. It offers checking and savings accounts; money measurement products, such as CDs, money market accounts, IRAs, health savings, and educational savings; gift and credit cards; and foreign currency, merchant, paperless banking, and international services. The company also offers lending products, such as home equity loans, auto loans, business loans, lines of credit, government guaranteed loans, real estate investment loans, and mortgages.
Bank Official Website:
• www.bankmutual.com
Bank Customer Service Telephone:
• 1-800-261-6888
Bank Routing Number:
• 275071330
Bank Swift Number:
•MUTUUS44
Online Banking Mobile Apps:
• iPhone
• Android
• iPad
Branch Locator:
•Branch Finder Link
HOW TO LOGIN
Step 1 – Go to www.bankmutual.com  Go to the login box at the top right side of the page. Go to the drop down box and select the page you would like to go to at login and enter your Access ID
Step 2 – After you've entered the your Access ID you will be directed to a separate page, for your security, where you will enter your password. You will then enter the page that you had selected in the drop down box.
Forgotten Password – If you are unable to recall your password, go to the home page and enter your Access ID. Once you reach the password page you will find "Forgotten Password" link. Click the link and you will be taken to a page that will assist your in retrieving your password. You will then provide the following information in the fields provided:
Your Access ID
The last 4 digits of your tax ID or Social Security Number
Your email address
Click the submit button
Once you've submitted your information, your password will be emailed to the email address you have provided for your online account.
HOW TO ENROLL
Step 1 – Return to the home page at www.bankmutual.com – Click the "Enroll in Online Banking" link at the bottom of the login box.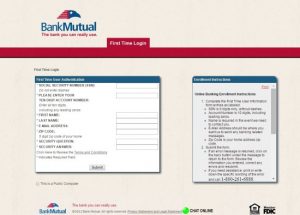 Step 2 – Once you've reached the enrollment page, you will need to complete the fields presented in the "First Time Login" area. Enter the following into the appropriate fields:
Your Social Security Number (without dashes)
Your ten digit account number (include any zeros in the number)
First name
Last name
Email address
Your 5 digit, home address zip code
Enter a security question
Enter an answer to your security question
Click the "Terms and Conditions" link and review the terms and conditions in order to be assigned your online banking account
Click "Submit"
If you receive any errors click the back button to and be certain all of the required information has bee completed. If you continue to experience any problems print or write the error and call 1.800.861.6888
Step 3 – On the next page presented, once your form has been accepted by the system, change your Access ID and Password. Remember that Access ID and Password information will be case sensitive so create information that you will be able to remember. Click "submit" to enter your changes.
Step 4 – Your account list will appear on the following screen. You will now have the ability to enter your Access ID, Password and begin banking online