Bank of America Corporation, through its subsidiaries, provides banking and financial products and services for individual consumers, small- and middle-market businesses, institutional investors, large corporations, and governments worldwide. It operates through four segments: Consumer Banking, Global Wealth & Investment Management (GWIM), Global Banking, and Global Markets. The Consumer Banking segment offers traditional and money market savings accounts, CDs and IRAs, noninterest- and interest-bearing checking accounts, and investment accounts and products; and credit and debit cards.
Bank Official Website:
• www.bankofamerica.com
Bank Customer Service Telephone:
• 1(800) 432-1000
Bank Routing Number:
• 051000017
Bank Swift Number:
• BOFAUS3N
Online Banking Mobile Apps:
• iPhone
• Android
• iPad
Branch Locator:
•Branch Finder Link
HOW TO LOGIN
Step 1 – Go to Bank of America's Website. Select the State that you opened your account.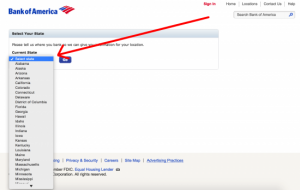 Step 2 – Now the account user may be able to login to their account by entering their Online ID.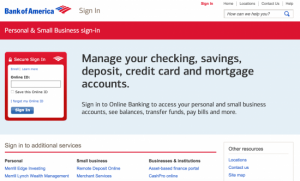 Step 3 – After the Online ID has been entered the account user's SiteKey will appear and the option to enter the password will appear. From there the user will be able to access all their account information.
Forgot Online ID – If the user has forgotten their Online ID, they should click on the 'I forgot my Online ID' link and the following must be entered:
Account or Debit/Credit Card Number
Social Security Number (SSN) and Tax Identification Number (TIN)
User's Passcode
HOW TO ENROLL
After an individual has created an account, either online or at a bank branch, they may apply for online banking through This WebPage.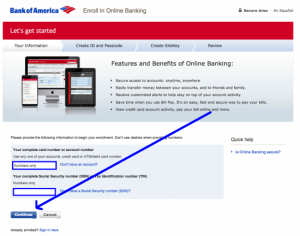 After entering the user's Card Number or Account Number their Social Security Number (SSN), or if it is a business, the Tax ID Number must be entered.
The user will be redirected to the next webpage which will allow them to create their ID and Passcode. From there their SiteKey must be created and then review all their information. After signing-up, a confirmation email will be sent and the user will be able to access their online account information.