At Beauregard Federal Savings Bank, we have longstanding community and family traditions. Our bank has been a cornerstone of the DeRidder area since 1948. From our founders to our present owners, directors, management, and employees, there is a deep history of commitment to Beauregard Parish which is reflected in the way we do business.
Bank Official Website:
• www.beauregardfsb.com
Bank Customer Service Telephone:
• (337) 463-4493
Bank Routing Number:
• 265270196
Bank Swift Number:
• This BANK is not part of the SWIFT network, so there is no number.
Online Banking Mobile Apps:
• Android
Branch Locator:
• Branch Finder Link
Beauregard Federal Savings Bank Online Banking Login
HOW TO LOGIN
Step 1 – Go to www.beauregardfsb.com – In the "Online Banking Login" box at the top right of the page, enter your Access ID. Click "Login"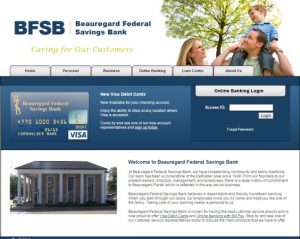 Step 2 – After submitting your Access ID, you'll be taken to a secure page where you may safely enter your password. Enter your password. Click "Submit"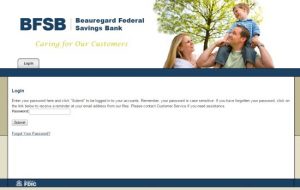 Step 3 – After submitting your login credentials, you will be directed to your Online Banking Account page where you will be able to review balances and do transactions.
Forgotten Password – Should you fail to recall your password and need to recover and reset it, go to the "Forgot Your Password? page. Enter your required information. Click "Submit"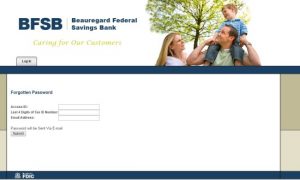 Once you've submitted your information, you will receive an email, to the email address that you have on file with your bank. The email will contain your password. You will then regain access to your Online Banking account.
HOW TO ENROLL
Step 1 – If you're interested in enrolling for an online account, this bank requires that you either call customer service and speak with a representative or walk into one of the branches. This method of enrollment is meant to protect your online information.

Step 2 – Once enrollment is complete, you may then login to your Online Banking Account to begin doing your banking business online.