American National Bank provides banking products and services to individuals, families, and businesses in Nebraska and Iowa. It offers business banking services that include business loans, corporate banking, commercial real estate, small business, agricultural lending, specialty finance, and treasury services; and personal banking that include checking accounts, online and mobile banking, telephone banking, savings and money market accounts, certificates of deposit, credit cards, loans, ID theft and fraud protection, and additional products.
Bank Official Website:
• www.amnb.com
Bank Customer Service Telephone:
• 1-800-240-8190
Bank Routing Number:
•  067011977
Bank Swift Number:
• This BANK is not part of the SWIFT network, so there is no number.
Online Banking Mobile Apps:
• iPhone
• Android
• iPad
Branch Locator:
•Branch Finder Link
American National Bank Online Banking Login
HOW TO LOGIN
Step 1 – Go to www.anmb.com – After you arrive at the home page, in the "Online Banking" box at the top of the page, enter your User  ID. Click "Login." You will then be taken to a separate page to enter your password. You will be required to identify an image you selected at enrollment. If the image is correct, enter your password.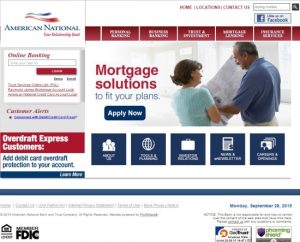 Step 2 – Once you've entered your login credentials, you will be directed to your Online Banking account where you will be able to review account information and do any needed banking transactions.
Forgotten Password – If you are unable to remember your password, you will find a "Forgot your password?" link on the password page. Simply click the link and you will be safely and privately guided through the process of resetting your password online. You will then have the ability to login with your User ID and new password information and gain entry into your Online Banking services.
HOW TO ENROLL
Step 1 – If you're a client with the bank and would now like to enroll in online banking services, start by going to This Page – In order to acquire an online banking account, you must first review and agree to the "Online Banking Agreement" you will find at the bottom of the enrollment page. Once you've read the agreement, click the "return" button on the bottom right of the page. When you are returned to the enrollment page, click "I Agree."

Step 2 – Once you agree to the terms you will be taken to the "Verification Information" page that must be completed in order to begin your enrollment information process. You must:
Select the account type, by clicking the appropriate bubble at the top of the page
Enter your Social Security Number or TIN
Enter your email address
After you have entered the initial required verification information, you will be privately prompted through the remainder of your enrollment process. You will be required to provide sensitive information and set up security steps that only you will recognize. Once you complete the entire enrollment process, you will have the ability to login to your account with your User ID and Password to view your account and do any banking business