Bank of Ann Arbor, Inc. provides business and personal banking products and services in Michigan. Its personal banking products and services include checking and saving accounts, online and mobile banking, home and personal loan, private banking, and mortgage services. The company's business banking products and services include deposit, lending, private banking, and online and mobile banking services, as well as services for medical and dental practice and venture capital industries.
Bank Official Website:
• www.bankofannarbor.com
Bank Customer Service Telephone:
• 734.662.1600
Bank Routing Number:
• 072413735
Bank Swift Number:
• This BANK is not part of the SWIFT network, so there is no number.
Online Banking Mobile Apps:
• iPad
• iPhone
• Android
Branch Locator:
•Branch Finder Link
HOW TO LOGIN
Step 1 – Go to www.bankofannarbor.com – From the "Account Login" box at the top left of the home page, go to the "Personal Banking" arrow and select to what page you wish to arrive at login. You may start with "Account Summary." You would then enter your Access ID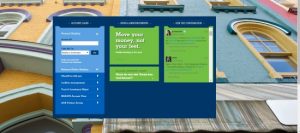 Step 2 – Once you have entered your Access ID, the system will check your computer and location, then it will present you with a Password page. Enter your password. You will then arrive at you online banking location where you will be able to review and do any transactions needed.
Forgotten Password – If you're having trouble recalling your password, go to the "Account Login" box. Click the "Personal Banking arrow," just below the drop down box you would click the "Forgot your password?" link. You will be directed to the "Forgotten Password" page. You will need to enter the following into the required fields:
Your Access ID
The last for digits of your Social Security Number or TIN
The email address you have on file with the bank
The system will then send you an email containing your password so that you may again gain access to your online account.
HOW TO ENROLL
Step 1 – If you have not yet enrolled in online banking and would like to acquire an account, go to This Page – and enter the following required information into the fields: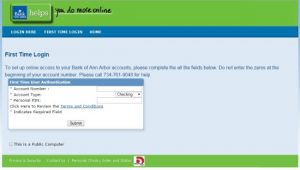 Your account number (leave the zeros off of the beginning of your account number)
From the drop down box, select your account type
Enter your personal PIN
Click the Terms and Conditions link and review the information
Return to the enrollment page and click "Submit" If you are working through a public computer, you must click the "This is a public computer" box
Step 2 – Once you have completed the "First Time User Authorization" and submitted the information, you will be taken to the next page of your secure enrollment set up. You will then be guided privately through the remainder of the enrollment process providing additional needed information ie; additional accounts, telephone numbers and secondary account holder information
Step 3 – As soon as you have completed the enrollment process, you will be able to login with the Access ID and Password that you have created and use your online banking account