The Bank of Beaver City offers personal and commercial banking services. The bank was founded in 1902 and is based in Beaver, Oklahoma. The Bank of Beaver City operates as a subsidiary of Beaver Bancorp. Inc.
Bank Official Website:
• www.bankofbeaver.com
Bank Customer Service Telephone:
• 1-580 625-4511
Bank Routing Number:
• 103106775
Bank Swift Number:
•This BANK is not part of the SWIFT network, so there is no number.
Online Banking Mobile Apps:
• No Mobile Apps Available
Branch Locator:
•Branch Finder Link
HOW TO LOGIN
Step 1 – Go to www.bankofbeaver.com – Inside of the "Online Banking Login" box, located in the upper left corner of the home page, click the "login" button. This will take you to the login area where you will enter your User name.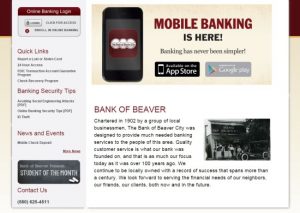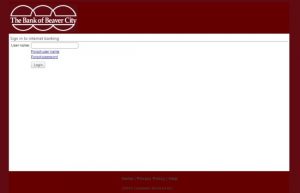 Step 2 – Enter your User name. Click "Login" – You will then be guided to a page where you will need to answer a security question, prior to allowance to proceed.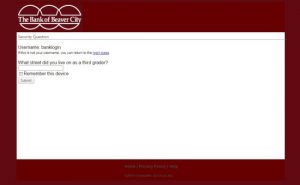 Step 3 – Once, you've answered your security question, you will be prompted through the remainder of your login process. Once you've successfully entered your credentials, you will then be directed to your Online Banking page where you will be able to conduct any of your banking business.
Forgotten Password – Should you find that you're unable to recall your password, you will require a password reset in order to regain access to your Online Banking account. Go to the Forgotten Password page. Enter your User name. Click "Submit"
You will then be asked to answer a security question. Answer the question and click "Submit"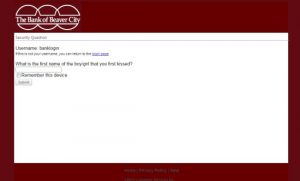 From this point you will be guided privately through the remainder of the password reset procedure. Once completed, you will be able to reset your password and regain access to your account online.
HOW TO ENROLL
Step 1 – If you would like to enroll in online banking you must begin by reviewing the "Internet Banking Agreement" – After you've taken the time to review the terms, you must click "I Agree" at the end of the page.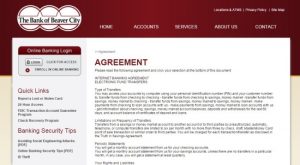 Step 2 – Once you've agreed to the terms and conditions of the agreement, you will be taken to a simple enrollment form. Complete the form by entering the required information and making any selections by clicking the boxes in front of your respective selections.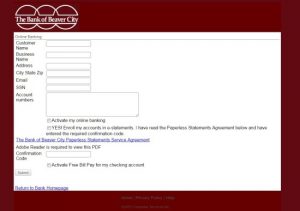 Step 3 – As you complete your enrollment form, your Online Banking account will become immediately available to you. You may login and begin conducting your banking business at your convenience any time day or night.