Bank Of Charles Town, a chartered community bank, provides banking services to consumers and local businesses in West Virginia, Virginia, and Maryland. It offers personal banking products and services, including checking, savings, and individual retirement accounts, as well as certificates of deposit (CD); and personal loans, such as new and used vehicle loans, loans secured by CD/savings/trust accounts, home equity line of credit, home equity loans, unsecured home improvement loans, unsecured personal loans, lot loans, and mortgage loans.
Bank Official Website:
• www.mybct.com
Bank Customer Service Telephone:
• 1- (800) 296-8431
Bank Routing Number:
• 057004693
Bank Swift Number:
• This Bank is not part of the SWIFT network, so there is no number.
Online Banking Mobile Apps:
• iPhone
• Android
• iPad
Branch Locator:
•Branch Finder Link
HOW TO LOGIN
Step 1 – Go to www.mybct.com – At the top left side of the page, in the "NetTeller Login" box, enter your User ID. Click "Login." After you click the login button you will be guided to another page where you will enter your password.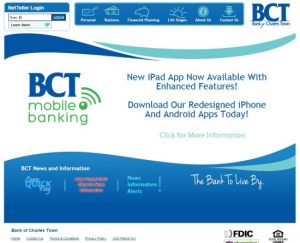 Step 2 – Once you've entered your password, you will be provided access to your online banking service page where you will be able to conduct your banking business as you wish.
Forgotten Password – If you have forgotten the password or PIN assigned to your account, you may click the link on the password/PIN page. You will be guided to the reset page where you will prove your identity and be allowed to reset your password/PIN at that time. You will then regain to access to your online banking services.
HOW TO ENROLL
Step 1 – If you're prepared to enroll in Online Banking services, go to This Page – You must have the following information for your enrollment:
Your account number
Your SSN or TIN
The email address you have on file with the bank
Read all of the information in the box and click "I Agree" to proceed

Step 2 – As you proceed you will enter the information needed. Click "Continue." You will then be prompted privately by the system to provide security for your information. Once your enrollment is complete, you will be able to login and access all of the services offered by your bank.