Bank of Kilmichael operates as a bank that provides banking products and services to individuals and businesses. The company offers checking and savings accounts, certificates of deposit accounts, and individual retirement accounts; and personal loans, business/agricultural loans, real estate loans, mortgage loans, and auto loans. It also provides services in the areas of automatic loan payments, bank by mails, credit cards, debit cards, direct deposits, money orders, night depository services, locked depository bags, notary services, safe deposit boxes, Internet banking, telephone banking, wire transfers (incoming/outgoing).
Bank Official Website:
• www.bankofkilmichael.com
Bank Customer Service Telephone:
• 1-662/262-7844
Bank Routing Number:
• 084203250
Bank Swift Number:
• This Bank is not part of the SWIFT network, so there is no number.
Online Banking Mobile Apps:
• iPhone
• Android
• iPad
Branch Locator:
•Branch Finder Link
HOW TO LOGIN
Step 1 – Go to www.bankofkilmichael.com – Once you reach the home page, go to the "Online Banking" box at the top left of the page. In the drop down box you may choose a menu, you would would be interested in exploring or you may simply sign in to your online banking services by entering your Access ID. Click "Login"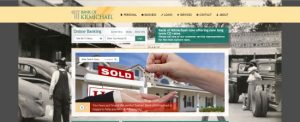 Step 2 – After you have entered your Access ID, you will be taken to a different page, as an added layer of security, to enter your password. Once you've entered your password you will be sent to your online banking services page where you will be able to review account balances and conduct any desired, banking transaction.
Forgotten Password – If you have forgotten your password, you will need to call the customer service number at 1-662-262-7844.  Speak with a representative of the bank for password reset assistance
Or write to: Bank of Kilmichael, P. O. Box 187, Kilmichael, MS 39747
Attn: Internet Banking Dept
Once your password has been reset, you will regain full access to your online banking services.
HOW TO ENROLL
Step 1 – If you are prepared to enroll in online banking services begin by going to This Page – Read the "Online Banking Disclosure." Once you've reached the end of the agreement, click "Agree" and you will be taken to the second page of the Enrollment Process.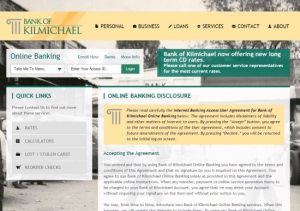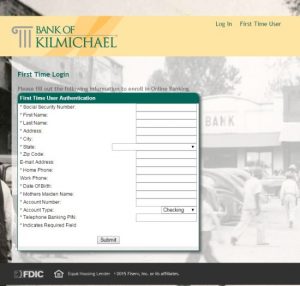 Step 2 – When you've agreed to the terms of the disclosure and arrive at the second page of the enrollment process, provide the following information:
Account holder's Social Security Number
First name
Last name
Address
City
State (select from the drop down box)
Zip Code
Email address
Home phone
Work phone
Date of birth
Mother's maiden name
Account number
Account type (select from the drop down box)
Telephone Banking PIN
All fields are required
Click "Submit"
Once you have submitted this information, you will be taken through the remainder of the enrollment process, privately. Once your enrollment is complete, you will then be able to login with your Access ID and Password and navigate your Online Banking account