Bank of Perry County provides banking services in Lobelville. Its deposits products include checking, savings, money market, and individual retirement accounts, as well as certificates of deposit. The company also provides various loans, such as real estate, auto, unsecured, commercial, construction, and home improvement loans. Bank of Perry County was formerly known as Bank Of Lobelville and changed its name to Bank of Perry County in April 1975.
Bank Official Website:
• www.thebankonthego.com
Bank Customer Service Telephone:
• 1-931-593-2265
Bank Routing Number:
• 064104162
Bank Swift Number:
• This Bank is not part of the SWIFT network, so there is no number.
Online Banking Mobile Apps:
• iPhone
• Android
• iPad
Branch Locator:
•Branch Finder Link
HOW TO LOGIN
Currently there is no online or mobile device service available. Once there is online service, all clients will be contacted with the opportunity to enroll in online banking services.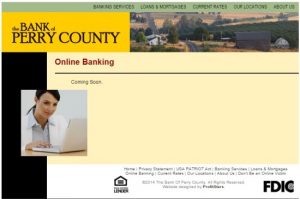 In the meantime, visit the web site for information on current services available. Go to www.thebankonthego.com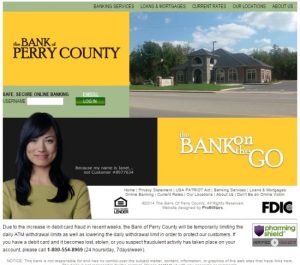 HOW TO ENROLL
Since there is currently no online service with this bank, you will have to continue to visit your local branch until further notice. Check This Page for services that are currently available.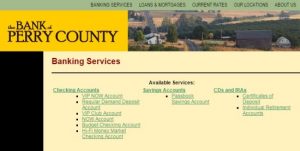 As soon as Online Banking is available, the bank's client's will be made immediately aware and customer service representatives will be available to assist in enrolling anyone who wishes to participate in online banking.