Bank of Crocker, a community bank, provides personal and business banking products and services. It offers checking accounts, savings accounts, certificates of deposit, loan products, and online banking services. The company was founded in 1911 and is based in Waynesville, Missouri. It has branch locations in Crocker, Richland, and St. Robert, Missouri.
Bank Official Website:
• www.bankofcrocker.com
Bank Customer Service Telephone:
• 573-736-2223
Bank Routing Number:
• 081512928
Bank Swift Number:
• This Bank is not part of the SWIFT network, so there is no number.
Online Banking Mobile Apps:
• Android
Branch Locator:
•Branch Finder Link
HOW TO LOGIN
Step 1 – Sign on by entering your "User ID" on the left side of the Bank of Crocker homepage and click Login right below.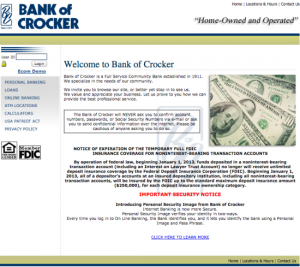 Step 1 – You must input your "Password" in the space shown and click Submit to enter your online account.

Forgot User ID/Password – If you can't remember your User ID/Password, you must notify a bank representative by calling the customer support telephone line and relaying the fact that you have forgotten your login information. The representative will then ask security questions to make sure you truly are the account holder. Once you have answered the questions correctly, you will be on your way to recovering either your User ID or Password.
HOW TO ENROLL
Step 1 – Click Online Banking to the left of the homepage to begin the enrollment process. This will bring you to a page with a small description and a link. Click the Enroll Now link to progress to the next stage.

Step 2 – Read the "Online Banking Agreement" carefully that contains all the terms and conditions of the policy. If you agree with the following statements, click I Accept.
Step 3 – Fill out the following "First Time User Information" form presented which contains the following required fields:
SSN
First & Last Name
E-mail Address
Account Number
Account Type
Security Question & Answer
Once form is finished, please click the Submit button to wrap up the enrollment process.