Bank of Guam is a full-service bank. The Bank accepts deposits, makes loans and provides other services for the public. Bank of Guam, "The People's Bank", will be the driving force for sustained prosperity in the communities it serves.
Bank Official Website:
• www.bankofguam.com
Bank Customer Service Telephone:
• 1-(671) 472-5300
Bank Routing Number:
• 121040169
Bank Swift Number:
• GMBKGUGU
Online Banking Mobile Apps:
• iPhone
• Android
• iPad
Branch Locator:
•Branch Finder Link
HOW TO LOGIN
Step 1 – Go to www.bankofguam.com – Once you arrive to the home page, in the "Online Banking" box, in thr drop down box, select your location. You would then enter your User ID. Click "Login"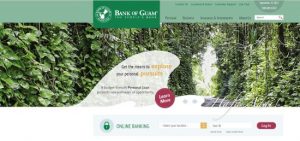 Step 2 – As an added layer of security, you will be guided to a separate page where you will enter your password. After you enter your password, you will be guided to your Online Banking account where you will be able to do your banking business at your convenience.
Forgotten Password – You will be given three opportunities to enter your password. If you are unsuccessful and cannot recall your password, you will need to call customer service at 1-(671) 472-5300 for a password reset. If you are not locked out of your account, you will be able to click the "Forgot Password" link on the password page and reset your password online. Simply follow the prompts.
HOW TO ENROLL
Step 1 – If you're prepared to enroll in online banking services, begin by going to This Page – provide the following information:
Your requested Login ID
BOG Account number
Physical address zip code
Date of birth
Social Security Number
Be certain to  read the instructions for creating your Login ID requirements
All fields are required for enrollment
Click "Submit"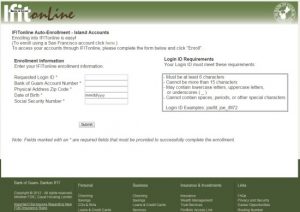 Step 2 – Once you've submitted your required enrollment information, you will be guided through the remainder of your enrollment, privately, by the system. Once your enrollment is complete, you will have the ability to enter your ID and password to gain access to your online account and do your online banking at your convenience any time of day or night.