First (1st) Manatee Bank is a Florida financial services company with 2 locations in Bradenton and another in Parrish. They focus on providing outstanding customer service and maintaining professional excellence. 1st Manatee operates an internet website that gives bank members the option of "Online Banking". This allows users to access their bank accounts anywhere internet service is available.
Official Website:
Bank Customer Service Telephone:
Bank Routing Number:
Bank Swift Number:
This BANK is not part of the SWIFT network, so there is no number.
Online Banking Mobile Apps:
Branch Locator:
First (1st) Manatee Bank Online Banking Login
HOW TO LOGIN
Step 1 – Go to the "Online Banking" section of First (1st) Manatee Bank's Webpage and select which type of account you possess(Personal or Business). Supply your Access ID in the space below and click Login.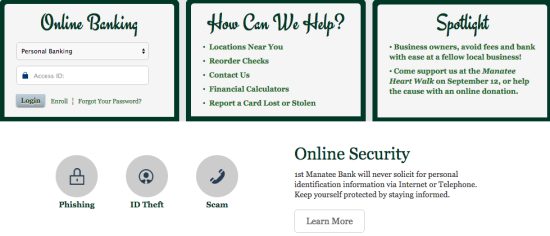 Step 2 – You will then be prompted to enter your Password. Type it in the empty space and select Submit.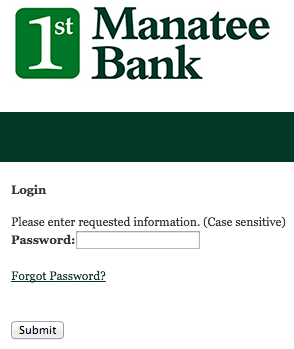 Forgot Access ID/Password – If you can't remember your Access ID, call the customer service telephone number and inform a bank associate. They will assist you in the recovery process. Can't remember your Password? click the Forgot Your Password? link on the homepage and provide the following required fields: Access ID, Last 4 Digits of Tax ID Number, and Email Address. Once all info has been entered, click Submit.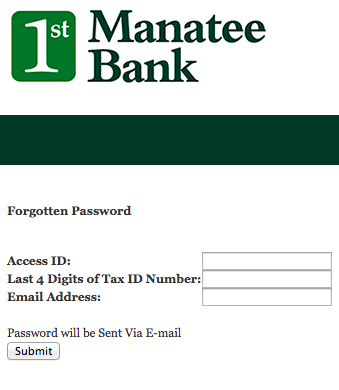 HOW TO ENROLL
Step 1 – Go to First (1st) Manatee Bank Enrollment Page by selecting the "Enroll" link on the main webpage. Fill out the "First Time User Authentication" form and click Submit.