Bank of Halls provides personal and business banking services in western Tennessee. It offers checking, savings, certificates of deposit, and individual retirement accounts; personal loans comprising mortgage, HELOC, auto, and miscellaneous loans; commercial and agricultural loans; ATM/debit and credit cards; and online banking, check reorder, cash management, wire transfer, and other general banking services. The company was founded in 1899 and is based in Halls, Tennessee with a branch location in Halls.
Bank Official Website:
• www.bankofhalls.com
Bank Customer Service Telephone:
• 1-(731) 836-7515
Bank Routing Number:
• 084302452
Bank Swift Number:
• This Bank is not part of the SWIFT network, so there is no number.
Online Banking Mobile Apps:
• No Mobile Apps Available.
Branch Locator:
•Branch Finder Link
HOW TO LOGIN
Step 1 – Go to www.bankofhalls.com – Once you arrive at the home page, inside of the "Online Banking" box enter your Access ID. Click "Login:"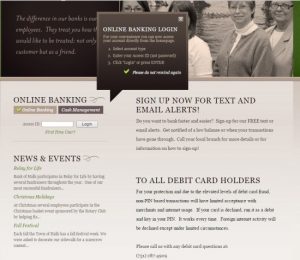 Step 2 – Once you've entered your Access ID and logged in, you will be taken to a second page in which you will enter your password. This is an added layer of protection for your privacy and security. Once you've entered your password, you will be directed to your own online banking account.
HOW TO ENROLL
Step 1 – If you're prepared to enroll for online services, begin by going to This Page – You must begin by reading the terms and conditions and agreeing to them. Without your agreement, you will not be able to acquire an online account.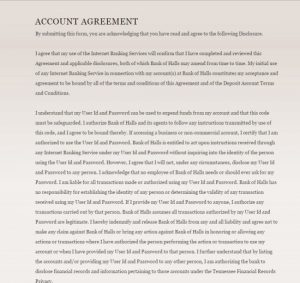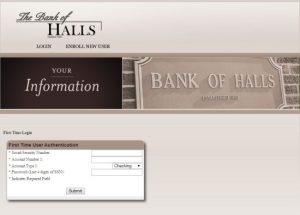 Step 2 – After you've read the terms, at the bottom of the page, click "I agree." When you agree to the terms you will be guided to the second page of the enrollment process where you shall provide the following required information:
Account holder's Social Security Number
Account Number
Account Type (select from the drop down box)
Password (will be the last 4 digits of your SSN)
All fields are required
Click "Submit"
Once you submit your information, you will be prompted through the remainder of the process, setting up additional security for your information. After completion of enrollment, you will be able to login with your Access ID and password. You will then be taken to your personal Online Banking account where you will be able to navigate and do your banking business at your convenience.