Bank of Hays provides commercial, agricultural, and household banking services for individuals and businesses in Kansas. It offers online banking services, such as online bill payment and online statements; personal checking accounts, which include free checking, regular checking, club checking, and interest checking NOW accounts; personal savings accounts, including regular savings, money market gold, certificates of deposit, and individual retirement accounts; personal loans, which include home equity line of credit, personal expense loans, vehicle/boat loans, and certificate of deposit loans; and additional services.
Bank Official Website:
• www.bankofhays.com
Bank Customer Service Telephone:
• 785-621-2265
Bank Routing Number:
• 101108571
Bank Swift Number:
• This Bank is not part of the SWIFT network, so there is no number.
Online Banking Mobile Apps:
• iPhone
• Android
• iPad
Branch Locator:
•Branch Finder Link
HOW TO LOGIN
Step 1 – Go to www.bankofhays.com – On the upper left side of the home page in the "Online Banking" box, enter your Username and Password. Click "Login"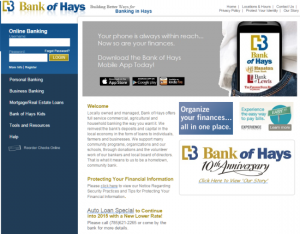 Step 2 – After you have entered your username, password and logged in, you will be directed to your Online Banking page, where you will then have the ability to do your personal online banking views and transactions.
Forgotten Password – If you are not able to remember your password, access the home page. From the "Online Banking" box, click the "Forgot Password?" link located just under the "Username" box. You will arrive to a password reset page. On the new page, you will enter your telephone number and your Username. Click "Send me a new password." You will receive a new password to the email address that you have on file with the bank.
HOW TO REGISTER
Step 1 – If you're prepared to register for online banking, start by going to This Page – click "Begin." You will be guided to the "Internet Banking Registration" form.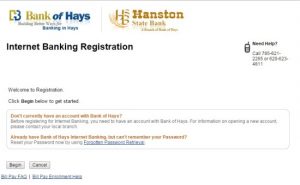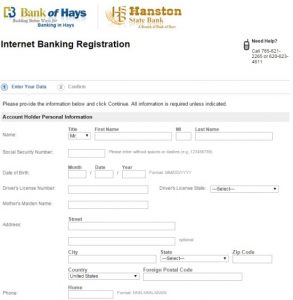 Step 2 – Once you reach the Internet Banking Registration Form, complete all of the fields as follows:
Select your title from the drop down box
Account holder's first name
Middle initial
Last name
Social Security Number (no dashes or spaces)
Date of birth (mm/dd/yyyy format)
Driver's license number
Driver's license state (select from the drop down box)
Mother's maiden name
Address
City
State (select from the drop down box)
Zip code
Country (select from the drop down box)
Foreign postal code (if any)
Phone numbers –
Home phone
Work phone
Other ( ie; cell number)
Email address
Account Holder Validation –
Amount of last deposit
Ending balance on your most recent statement
Username and Password
Username
Password (click the link for guidelines)
Re-Enter your password
Optional Secondary Account Holder (if any) –
Select title from the drop down box
First name
Middle initial
Last name
Social Security Number (no dashes or spaces)
Account information –
If you would like to view more accounts on you Online Banking Page enter:
Select the type of account from the drop down boxes respectively
Enter the account number to each account
Bill payment –
Check the box if you would like to use Bill payment
Referral (if any)
Disclosure –
In order to acquire an account with this bank, you must read and agree to the "Terms and Conditions." Click the link and review the information. After completing your review, click the acknowledgement box stating  that you have read and agree to the terms.
Click "Continue
From here you will be prompted through the remainder of the registration process. Once complete, you will have access to login to your account with your Username and Password. You will then be able to navigate and transact within your Personal Online Banking Page.