Bank of Hazlehurst (Hazlehurst, GA) provides personal and business financial products and services in Georgia. The company offers checking, savings, money market, and individual retirement accounts; and certificates of deposit. It also provides automobile, installment, boat and recreational vehicle, real estate construction and project development, business expansion, new equipment purchase, credit line, and short term loans; reorder personal checks and Visa check cards; and electronic banking services.
Bank Official Website:
• www.bankofhazlehurst.com
Bank Customer Service Telephone:
• 1-(912) 375-2310
Bank Routing Number:
• 061203752
Bank Swift Number:
• This Bank is not part of the SWIFT network, so there is no number.
Online Banking Mobile Apps:
• iPhone
• Android
• iPad
Branch Locator:
•Branch Finder Link
HOW TO LOGIN
Step 1 – Go to www.bankofhazlehurst.com – On the top right of the page, in the "Online Access" box, enter your Access ID. Click "Submit." If you would like, you may select a page from the drop down box, you may like to arrive in, once you've entered your password.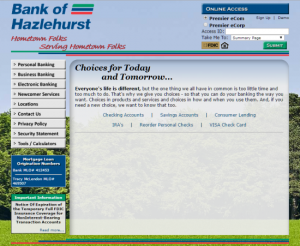 Step 2 – After you have submitted your Access ID, you will be sent to a separate page to enter your password. This is an added layer of security to protect your information. You will then be directed to your Personal Online Banking services where you will be able to do your banking business any time of the day.
Forgotten Password – If you aren't able to recall your password, click on the "Fortgot Password" link on the password page. You will be prompted through the process to reset your password. You may also call customer service at 1-(912) 375-2310 for password reset assistance.
HOW TO ENROLL
Step 1 – If you're prepared to enroll in online banking services begin with This Page – Provide the following information: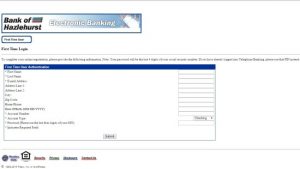 Account holder's first name
Last name
Email address
Address
City
State
Zip code
Home phone
Date of birth (mm/dd/yyyy format)
Account number
Account type
Password (last 4 digits of your SSN)
All fields are required
Step 2 – Once you've completed the enrollment form, Click "Submit" You will then be guided privately through the rest of your enrollment requirements. Once enrollment is completed, you will be able to login to your Online Banking account, as you wish, to conduct your banking business