Audubon Savings Bank provides community banking services in the South Jersey area. It offers personal banking services, such as checking accounts, savings accounts, certificates of deposit, and loans. The company also provides business banking services, including checking accounts, business and commercial loans, credit cards, and merchant account services. Audubon Savings Bank was formerly known as Audubon Savings and Loan Association and changed its name in May 1994. The company was founded in 1904 and is based in Audubon, New Jersey with branches in Audubon, Mt. Laurel, and Pine Hill.
Bank Official Website:
• www.audubonsavings.com
Bank Customer Service Telephone:
• 856-656-2200
Bank Routing Number:
• 231270256
Bank Swift Number:
• This BANK is not part of the SWIFT network, so there is no number.
Online Banking Mobile Apps:
• No Mobile Apps Available
Branch Locator:
•Branch Finder Link
HOW TO LOGIN
Step 1 – Go to the "Account Login" section of the Audubon Savings Bank homepage to the right. Input your Access ID in the available space and Click Go.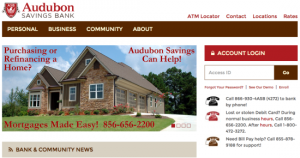 Step 2 – Input your Password in the "Login" page, then click Submit to access your account.

Forgot Access ID/Password – Contact the bank if your Access ID has been forgotten and a bank worker will help you retrieve your forgotten ID (as long as you provide certain information about your account to confirm your identity). Click the Forgot Your Password? link of the homepage to arrive at the "Forgotten Password" page. You will be prompted to provide the following information:
Access ID
Last 4 Digits of Tax ID Number
Email Address
and click Submit to recover your Password.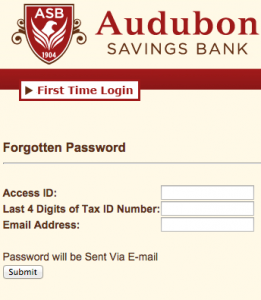 HOW TO ENROLL
Step 1 – Go to Audubon Savings Bank enrollment page by clicking the "Enroll" link of the main webpage. You will be supplied a form that requires the following information:
SSN
Checking or Savings Account Number
First and Last Name
Email Address
Zip Code
Security Question and Answer
then read the terms and conditions and click Submit to advance.