Bank of Hindman offers personal and commercial banking services. The bank was founded in 1903 and is based in Hindman, Kentucky. Bank of Hindman operates as a subsidiary of Community Exchange Bancshares, Inc.
Bank Official Website:
• www.bankofhindman.com
Bank Customer Service Telephone:
• 1-(606) 785-3158
Bank Routing Number:
• 042105154
Bank Swift Number:
• This Bank is not part of the SWIFT network, so there is no number.
Online Banking Mobile Apps:
• iPhone
• Android
• iPad
Branch Locator:
•Branch Finder Link
HOW TO LOGIN
Step 1 – Go to www.bankofhindman.com – As you arrive at the homepage, to the lower left of the page in the "Online Banking Login" box, enter your user name in the field provided. Click "Login"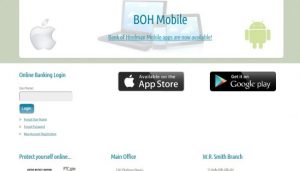 Step 2 – Once you've entered your user name and clicked "Login," for your security, you will be taken to a second page where you will enter your password. After entering your password, you will be taken to your online banking account, where you may proceed with any of your banking business.
Forgotten Password – If you're unable to recall your password, from the home page, in the "Online Banking Login" box, click on the "Forgot Password" link. Enter your user name and click "Submit." From there you will begin a password reset process whereas you will be prompted through privately by the system. As you successfully complete the reset procedure, you will have the opportunity to reset your password and regain access to your online banking account.
HOW TO REGISTER
Step 1 – If you're prepared to enroll in Online Banking, you would begin with This Page – In order to acquire an account with this bank, you must first read and agree to the "Online Banking, Mobile Banking and E-Disclosure Agreement." At the end of the page, you will click "Continue." This will lead you to the "Online Banking Registration" page, where you will be required to complete the short form, print it out and either mail, fax, email as an attachment or take it to the bank, for identity verification.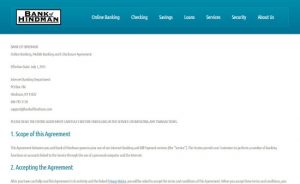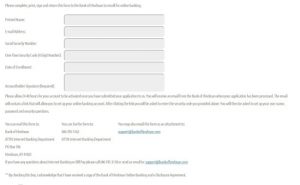 Step 2 – Once you have completed and submitted the registration form, you must wait for 24 to 48 hours to receive confirmation in email that your online service is confirmed. In that email will be a private link where you will click and set up your online account. As you complete set up, you will have access to your account. Login with your chosen User Name and Password and you will then be able to navigate your Online Banking page to review your account(s) and conduct transactions