The Bank of Greene County (Catskill, NY) provides banking products and services for consumers and businesses. It offers personal banking services, including checking accounts, savings accounts and CDs, student savings accounts, mortgages and consumer loans, and check cards; business and commercial services, including checking accounts, savings accounts and CDs, mortgages and loans, e-commerce.
Bank Official Website:
•www.thebankofgreenecounty.com
Bank Customer Service Telephone:
• 518-943-2600
Bank Routing Number:
• 221370467
Bank Swift Number:
•This BANK is not part of the SWIFT network, so there is no number.
Online Banking Mobile Apps:
• iPhone
• Android
Branch Locator:
•Branch Finder Link
The Bank of Greene County Online Banking Login
HOW TO LOGIN
Step 1 – Go to www.thebankofgreencounty.com  – On the left side of the page, in the "Online Banking" box, enter your Login ID and Password into their respective fields. Click "Login."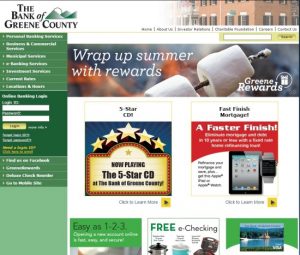 Step 2 – Once you've successfully logged in, you will be directed to your Online Banking page. You will then have the ability to view accounts and do online transaction
Forgotten Password – If you're unable to recall your password, access the home page and click the "Forgot Password?" link. You'll be taken to the "Password Reset" page. Enter your Logon ID. Click "Continue." You will be guided through your security verification privately. Once you've completed the process, you will have the opportunity to reset your password online. You will then regain access to your online account.
HOW TO ENROLL
Step 1 – If you're prepared to enroll in online banking services, go to This Page – Once you've entered your social security number, you will be prompted through the remaining enrollment process, creating personal security, ID and a password.

Step 2 – After you have completed all of the steps of your enrollment, you will then be able to login to your account with your login ID and password and access your Online Banking Services and conduct your banking business.