Belgrade State Bank provides personal and business banking services. It offers checking accounts; statement savings accounts, Christmas club accounts, certificates of deposit, individual retirement accounts, and wealth management services; home mortgage, personal, auto, and home improvement loans; and VISA and custom debit cards, switch kits, overdraft protection services, identity theft protection services, email and text alerts, and mobile banking services.
Bank Official Website:
• www.belgradestatebank.com
Bank Customer Service Telephone:
• 1-(573) 431-3999
Bank Routing Number:
• 081908833
Bank Swift Number:
• This BANK is not part of the SWIFT network, so there is no number.
Online Banking Mobile Apps:
• iPad
• iPhone
• Android
Branch Locator:
• Branch Finder Link
HOW TO LOGIN
Step 1 – Go to www.belgradestatebank.com – In the "Secure Login" box on the top left of the page, enter your Access ID. Click "Login"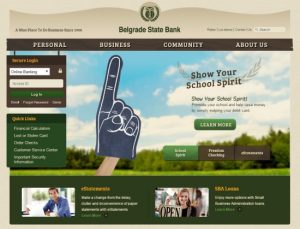 Step 2 – After you've submitted your Access ID, you'll be guided to a separate page where you will enter your password. Click "Submit"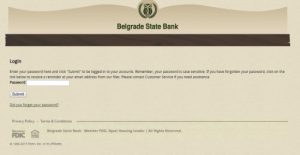 Step 3 – After you've entered your credentials on both pages, you will be taken to your Online Banking page where you will be able to conduct your banking business at your discretion.
Forgotten Password – If you're unable to recall your password, go to the "Forgotten Password" page. Enter the required information. Click "Submit"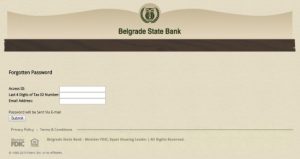 Once you've submitted your information, you will receive an email containing your password from the bank to the email address you have on file with the bank. You will then have regained access to your account.
HOW TO ENROLL
Step 1 – When you're prepared to enroll in online banking with this bank go to the "First Time Login"page. Enter all of the required information into the boxes provided. You must click the link to the "Terms and Conditions" and agree to the terms before you will be allowed to proceed. Once you've reviewed the terms you will have completed the enrollment process. Click "Submit"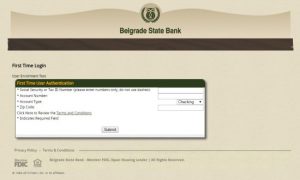 Step 2 – After completion and submission of the first time login, you will be privately prompted to complete set up of your account. Once complete, you will be able to login to your Online Banking services and will be able to proceed with any reviews and transactions.