Bank of Mingo provides personal and business banking products and services. It offers personal banking products and services that include checking and savings accounts, loans/mortgages, and CDs and IRAs. The company also provides business banking products and services that include business checking accounts, money market savings accounts, and business loans. In addition, it offers online banking services.
Bank Official Website:
• www.thebankofmingo.com
Bank Customer Service Telephone:
• 1-877-730-0573
Bank Routing Number:
• 051501817
Bank Swift Number:
• This Bank is not part of the SWIFT network, so there is no number.
Online Banking Mobile Apps:
• No Mobile Apps Available.
Branch Locator:
•Branch Finder Link
HOW TO LOGIN
Step 1 – Go to the "Online Banking Log In" section of the Bank of Mingo homepage. Insert your "Access ID" in the proper space and click the Submit button.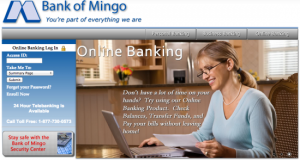 Step 2 – Insert your account "Password" in the appropriate space and click Submit to enjoy the full access of your account.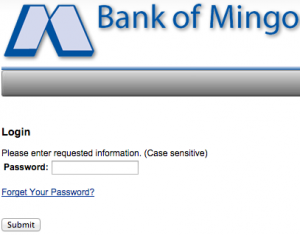 Forgot Access ID/Password – If you cannot recall your Access ID, user must call the bank's consumer help line and trouble shoot with a representative. Once the rep is aware of your issue, they will as confirm your identity and guide you through the process of recovery. As far as a forgotten password goes, you must click the Forget your Password? link on the initial webpage (also located on the page after you input your Access ID). You will be redirected to a page that requires your Access ID, Last 4 Digits of Tax ID Number, and Email Address. Provide the info and click Submit to receive an E-mail that contains your Password.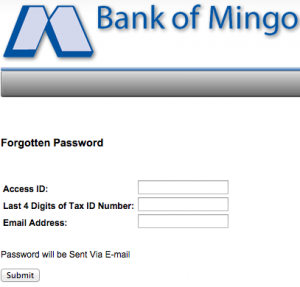 HOW TO ENROLL
Step 1 – Click the Enroll Now link located on the primary webpage. Information will be disclosed, read it and click Internet Banking Application.

Step 2 – You must print out the following form that is provided. Fill it out by hand with the required information. Once form is completed, send it(or bring in person) to the bank address nearest to you (branch addresses located in the upper, right corner of the form). The bank will then process the request and you will be on your way to obtaining an online account.