Bank of Morton provides banking products and services for individuals and businesses in Morton, as well as communities in the surrounding area. Its products and services include business accounts, personal accounts, certificates of deposits, IRA's, ATM and debit cards, safe deposit boxes, telephone banking, consumer loans, business loans, and home loans, as well as mobile banking. The company was founded in 1904 and is based in Morton, Mississippi. Bank of Morton operates as a subsidiary of Morton Bancorp, Inc.
Bank Official Website:
• www.bankofmorton.com
Bank Customer Service Telephone:
• 1- 601 732-8944
Bank Routing Number:
• 065303522
Bank Swift Number:
• This Bank is not part of the SWIFT network, so there is no number.
Online Banking Mobile Apps:
• iPhone
• Android
• iPad
Branch Locator:
•Branch Finder Link
HOW TO LOGIN
Step 1 – Go to www.bankofmorton.com – Once you've reached the home page, in the "Log In To Online Banking" located at the top left side, enter your Access ID and Passcode. Click "Go"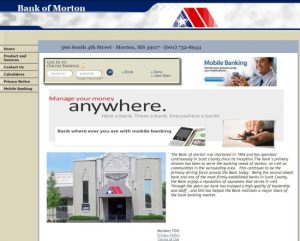 Step 2 – After entering your login information and submitting it, you will be directed to your personal Online Banking account where you will have the ability to navigate your page to do any reviews and/or transactions
Forgotten Password – If you are unable to recall your passcode, you will be able to reset it online. Go to the home page and into the "Log In To Online Banking" box. Click the "Forgot Passcode" link. This will lead you to the "Online Banking Passcode Reset" page where you will enter:
Your Access ID
Your SSN/TIN
Your account number
Click "Submit"
When you submit your information you will answer security question(s). Once you have passed all of the security steps, you will be able to reset your passcode and again gain access to your account.
HOW TO ENROLL
Step 1 – If you're ready to enroll in online banking services, start by going to This Page – In order to have the ability to proceed with enrollment, you must read and agree to both parts of the "Electronic Disclosure Consent Statement." After you've reviewed the information in both parts of the document, you must click the acknowledgement box and then click "I Agree" at the bottom of both sections. You will then be sent to the "Online Internet Banking Enrollment Form"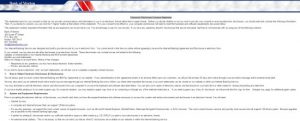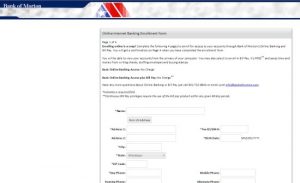 Step 2 – Complete all of the required fields on the enrollment form. Click "Continue." From there you will be guided through the remainder of the enrollment process creating an Access ID and Password, as well you'll set up security for your account. Once you have completed the enrollment process, you will be able to login to your account and conduct business with any of your accounts that you make available for review on your Online Banking page