Bank of New Hampshire offers personal and business banking services to families and businesses throughout New Hampshire. Its personal banking services include personal checking accounts, money market accounts, savings accounts, CDs, IRAs, health savings accounts, and debit and ATM cards; prestige checking accounts; mortgage loans; consumer loans; home equity loans; overdrafts; safe deposit boxes; credit card services; and online banking.
Bank Official Website:
• www.banknh.com
Bank Customer Service Telephone:
• 1-800-832-0912
Bank Routing Number:
• 211770271
Bank Swift Number:
• BNHAUS31
Online Banking Mobile Apps:
• iPhone
• Android
• iPad
Branch Locator:
•Branch Finder Link
HOW TO LOGIN
Step 1 – Go to www.banknh.com – In the top right side of the page inside the "Login" box  enter your Access ID. Click the arrow button. You will then be sent to a second secure page where you will enter your password.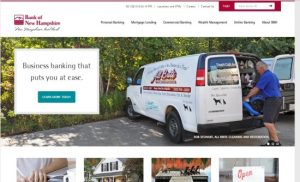 Step 2 – After you've entered your login credentials and logged in, you will be able to conduct balance reviews on any of your accounts and any other transactions if needed.
Forgotten Password – If you fail to recall your password, from the login page, click the"Forgot Password?" link. The system will guide you through the password reset procedure. Once you've completed the security questions and reset your password, you will regain access to your Online Banking services. Simply login and you will be taken to your Online Banking page.
HOW TO ENROLL
Step 1 – If you're prepared to enroll in online banking services, begin by going to This Page – Once you've reached the login page, click the box beside "I am a first time user." Then login to your account. This will take you privately through the enrollment process. You will create an Access ID and Password, you will also set up security to keep your banking information safe.

Step 2 – After you have entered all of the required information and are verified, you will then be able to login with your new Access ID and Password so that you may check your balances and conduct transactions on any of the accounts you have set up with your Online Bank account.