Bank of Utah, Inc. provides personal and business banking services in northern Utah and the St. George area. Its banking products and services include checking, savings, certificates of deposit, and health savings accounts; debit cards; auto, home equity, recreation vehicle, unsecured, and home loans; lines of credit, equipment loans, and commercial real estate loans; and online banking, mobile banking, remote and mobile deposit capture, electronic payment collection and disbursement, electronic fraud protection, sweep accounts .
Bank Official Website:
• www.bankofutah.com
Bank Customer Service Telephone:
•  (877-268-9322)
Bank Routing Number:
• 124300107
Bank Swift Number:
• This BANK is not part of the SWIFT network, so there is no number.
Online Banking Mobile Apps:
• iPad
• iPhone
Branch Locator:
•Branch Finder Link
HOW TO LOGIN
Step 1 – Go to www.bankofutah.com – Enter an Access ID and Password in the "Internet Banking" box at the top left of the home page. Click the "Login" button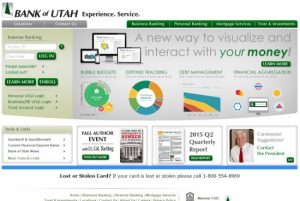 Step 2 – Once you've entered your login credentials and clicked "Login," you will be taken to your online banking account where you will be able to begin conducting your banking reviews and transactions with any of your accounts.
Forgotten Password – If you are unable to remember your passcode, you must go back to the Internet Banking box on the home page and click the "Forgot Passcode?" link. You will then be directed to the "Online Banking Passcode Reset" page. You will need to enter the following in the required fields:
Your Access ID
Your Social Security Number or TIN
Your account number
Once you have provided this information, click "Submit at the bottom left of the box. You will then be guided privately through more security layers in order to secure your identity. You will  then be provided with the opportunity to reset your passcode and regain access to your online banking services.
HOW TO ENROLL
Step 1 – To begin, go to This Page – to review and agree to the "Electronic Disclosure Consent Statement." Once you have clicked the box to acknowledge that you have, if fact, read the disclosure, click the "I agree" button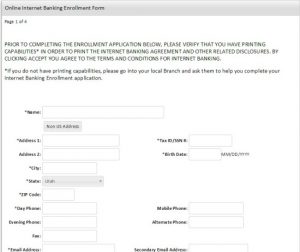 Step 2 – You will then be taken to the "Internet Banking and Bill Payment Agreement. You would treat it exactly the same as the first agreement, review, check the acknowledgement box by the statement and click "I agree"
Step 3 – Once you agree to the Banking and Bill Payment agreement you will be directed to the portion of the enrollment that will collect the following information:
Your name
Your address (if you have a non-US address place it in the appropriate field)
City
State
Zip or Postal Code
Day phone
Evening phone
Fax number
Email address
Verify your email address
Who were you referred by (if any)
Account holder's Social Security Number or TIN
Account holder's date of birth (mm/dd/yyyy format)
Mobile number
Alternate phone number
Secondary email address
Verify Secondary email address
Would you like to receive your statement and other disclosures in electronic format only? (click the yes or no bubble appropriately)
Account numbers
Nickname of accounts
Use the drop down boxes to select the type of accounts
Would you like to access bill pay? (click the box beside each account participating in EBP
Click "Continue"
Step 4 – From this point you will be prompted to set up the remainder of your enrollment privately, creating security questions, answers and all other layers of security
Step 5 – After your enrollment is complete, login to your account to begin conducting business within your online banking account