Bank of Wedowee is a full-service bank. The bank accepts deposits, makes loans and provides other services for the public.
Bank Official Website:
• www.bankofwedowee.com
Bank Customer Service Telephone:
• 1-256-357-2132
Bank Routing Number:
• 062203641
Bank Swift Number:
• This BANK is not part of the SWIFT network, so there is no number.
Online Banking Mobile Apps:
• No Mobile Apps Available
Branch Locator:
• Branch Finder Link
HOW TO LOGIN
Step 1 – Go to www.bankofwedowee.com – Once you've reached the home page, in the "Online Banking Login" box at the top right of the page, enter your Access ID and Passcode. Click "Go"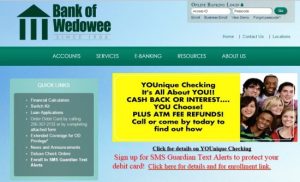 Step 2 – After you submit your login credentials, you will be directed to your Online Banking page where you will then be able to do your banking business.
Forgotten Password – If you cannot recall your passcode information, you may reset it by going to the "Forgot Passcode?" page. Complete all of the required fields. Click "Submit"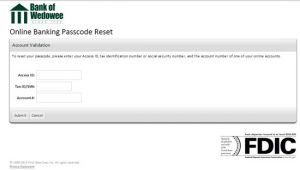 Once your information is submitted, you will be taken privately through the rest of the reset process. After you've completed the process, you will again have access to your Online Banking page and may resume your banking business.
HOW TO ENROLL
Step 1 –  If you're ready to enroll in online banking, you must begin by reviewing the bank's "Electronic Disclosure Consent" This bank requires that you review, acknowledge and agree to the terms before being allowed to move forward in the enrollment process. Once you've reviewed the terms, go to the bottom of the page, click the acknowledgement box and then click "I Agree."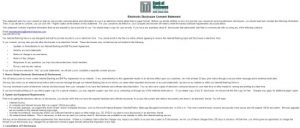 Step 2 – Once you've reviewed the terms and agreed to them, you will then be taken to the "Online Internet Banking Enrollment Form" You must read all of the information at the top of the page inasmuch as you will be required to print, sign and send or walk into the bank with a signed copy of the completed enrollment. Your enrollment will not be complete until you provide a hard copy to the bank.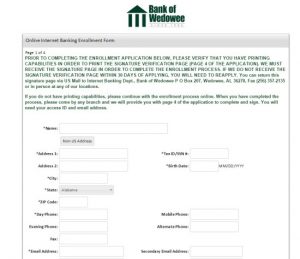 Step 3 – Once you've completed your form, printed it off and provided a copy to the bank, your information will be verified. You will then be notified when your account is set up and ready for you. After you've received notification, you will be able to login to your account and do your banking at that time.