Bankers Trust Company provides banking products and services to businesses and individuals in Iowa. It offers personal banking products and services, such as checking, savings, and wealth management; and other services, including Internet banking, home mortgage, gift cards, family cash cards, safe deposit boxes, check reordering, and simple switch kits. The company also provides business banking products and services, including banking and treasury, business banking, and wealth management; and other services, such as business Internet banking, lock boxes, checking accounts, savings accounts, business check reordering, Quicken/QuickBooks, bankers trust MyPayCard, and remote deposit capture.
Bank Official Website:
• www.bankerstrust.com
Bank Customer Service Telephone:
• 1-800-362-1688
Bank Routing Number:
• 073922856
Bank Swift Number:
•BTCDUS44
Online Banking Mobile Apps:
• iPad
• iPhone
• Android
Branch Locator:
•Branch Finder Link
HOW TO LOGIN
Step 1 – Go to www.bankerstrust.com – As you arrive at the home page, in the top right corner of the page, under "Login to Account," select which type of account you will login to, Business or Personal. For the sake of example we shall select "Personal" – Click the "Personal" link. This will provide a drop down for you. You would then click "Personal Internet Banking." This will take you to the sign in page where you will enter your User ID. Click "Continue"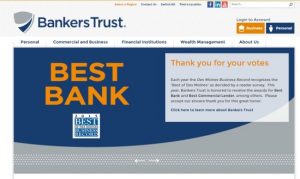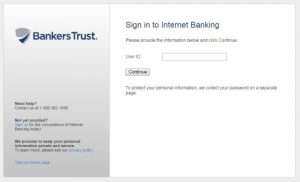 Step 2 – After entering your information, you will then be taken to a separate, secure page, where you will enter your Password. Click "Sign In"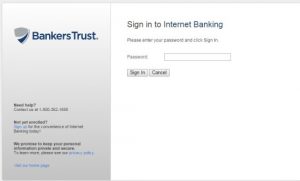 Step 3 – After you've entered your login information, you'll be directed to your Online Banking page and will be able to conduct your banking business.
Forgotten Password – If you find that you're unable to remember your password, you will be required to contact the customer service number at 1-800-362-1688 or walk into a banking center for assistance in resetting your password information.
HOW TO ENROLL
Step 1 – If you're prepared to enroll in online banking services, begin  by going to the "Online Banking Enrollment" page. Depending upon your selection, will decide how long it will take to acquire online banking access. Once you arrive at the page, make your selection by clicking the appropriate bubble. Be advised that you must click the "Internet Banking and Bill Pay Service Agreement and Disclosure" link, prior to being allowed to continue enrollment. Once you have reviewed the terms click the acknowledgement box. Click "Continue"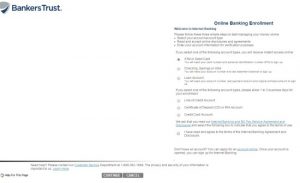 Step 2 – Once you've entered your answer and acknowledged the terms, you will be taken to an enrollment form. Enter the required information. Click "Continue"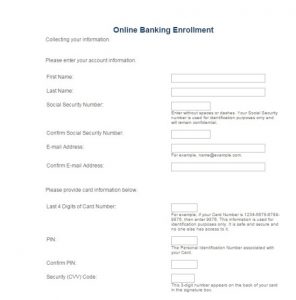 Step 3 – From this point you will be guided privately through the remainder of the enrollment process. Once you've completed enrollment, you may then login to your Online Banking account and begin reviewing your balances, transactions and conducting any banking business.