Banterra Bank, Inc. provides personal and business banking products and services. It offers personal banking products and services include personal checking accounts; smart kids savings, money market, and health savings accounts; certificates of deposit (CDs) and individual retirement accounts (IRAs); mortgage and equity products; personal loans; and debit and credit card services.
Bank Official Website:
• www.banterra.com
Bank Customer Service Telephone:
• 1(866) 226-8377
Bank Routing Number:
• 081222593
Bank Swift Number:
• This BANK is not part of the SWIFT network, so there is no number.
Online Banking Mobile Apps:
• iPad
• iPhone
• Android
Branch Locator:
• Branch Finder Link
HOW TO LOG IN
Step 1 – Users who wish to login to their account online must visit the ´Homepage´ and look for the ´Online Banking Login´ towards the top of the page on the left. Users must enter their username in the blank field then click ´Login´.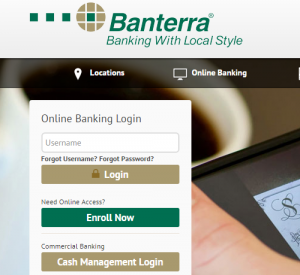 Forgotten Username/Password
Step 1 – If a user can not remember either their username or password they must click on either the´Forgot Username/Forgot Password´ link below the Online Banking Login.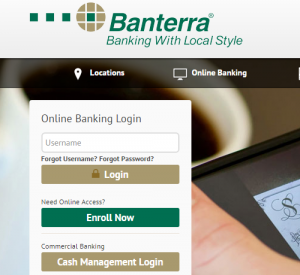 Step 2 – If a user forgets their ´Username´ they will directed to a new page then requested to enter their Email address and then click ´Submit´.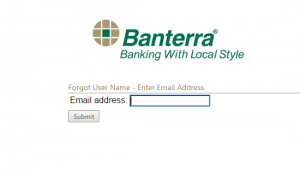 Step 4 – Users who forget their ´Password´ will be directed to a new page and requested to enter their username and then click ´Submit´.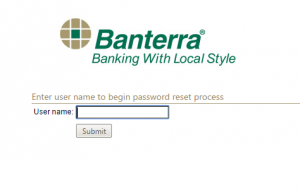 HOW TO ENROLL
Step 1 – Owners of existing accounts with Banterra Bank who wish to create an online account must go to the homepage and click on the link for ´Enroll Now´ which is below the Log In at the top left of the page.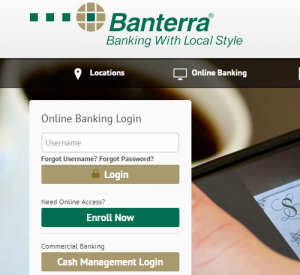 Step 2 – Users are directed to a second page where they are required to ´Complete The Blank Fields´ for their enrollment.
Required
First name
Last name
Social security number
Date of birth
Email Address
Address
Zip code
Telephone number